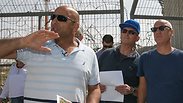 SJJ members.
Photo: Ohad Zwigenberg
Movement calls for separating Palestinian villages from Jerusalem via fence
In the midst of the current wave of terror, the members of the Save Jewish Jerusalem movement went on tour from Qalandia to Jabel Mukaber. Their proposed plan would place about 200,000 Palestinians outside the borders of Jerusalem.
The current escalation in Palestinian-Israeli violence, which began in East Jerusalem, has led to the establishment of the Save Jewish Jerusalem (SJJ) movement, whose founders – former high-ranking politicians and military leaders – are calling for a partial separation from Palestinian villages in East Jerusalem. They conducted a tour of Palestinian villages on Wednesday, which began in Qalandia and concluded in Jabel Mukaber.

Among the SJJ members are former MKs Haim Ramon, Ami Ayalon, David Tzur (who's also a former police deputy commissioner), retired IDF Colonel Shaul Arieli, an expert on the separation fence issue, and Amir Cheshin, who served as an Arab affairs advisor to former Jerusalem Mayor Teddy Kollek.

The members of SJJ avoid phrasing their plans as dividing Jerusalem. They believe Israeli politicians who use that kind of rhetoric are misleading the public, saying they oppose the division of Jerusalem when in practice some of the city's neighborhoods are outside the separation fence, and others – such and Jabel Mukaber – have no practical connection to the social, political, and everyday aspects of life in typical areas of Jerusalem.

"A substantial percent of the terror attacks in the current escalation came from East Jerusalem," explained Ramon, "so, in order to strengthen security, we have to separate these villages from Jerusalem via a security fence." According to the movement's plan, Israel should essentially extend the existing separation fence into Jerusalem, creating a barrier between Jewish neighborhoods – from Neve Yaakov, through Pisgat Ze'ev and the French Hill, and into Har Homa – and adjacent Palestinian neighborhoods such as Beit Hanina, Shuafat, Issawiya, Jabel Mukaber, and Zur Baher. Under the SJJ plan, these neighborhoods will be treated as B and C areas, under complete Israeli security control, much like similar areas in the West Bank.

The SJJ founders understand they're starting a long process, during which they will have to convince the Israeli public of their plan's correctness. The plan would, in practice, place about 200,000 Palestinians outside the borders of Jerusalem, with their Israeli citizenships being revoked. This would create a situation in which about 80 percent of Jerusalem residents are Jewish, as opposed to about 60 percent today. "In the current situation, if Palestinians decide to vote in elections one day, the mayor of Jerusalem would be the Mufti's grandson," explained Ramon. "You can't build a strategy of a Jewish and Zionist capital like this, just based on the fact that they have decided not to vote."

According to the plan, not all Palestinian neighborhoods will be disconnected from the capital. More sensitive areas such as Silwan, Wadi Juz, Ras al-Amud, and Abu Tur will stay inside the borders of Municipal Jerusalem, along with their residents. The fact that the plan only gives partial solutions for the neighborhoods, specifically those related to religious holy sights, will likely lead to the Palestinian Authority's complete condemnation and strong resistance. The SJJ members are aware of this.

"We are making a great effort to start with something, even though I know it's not an optimal move," admits former deputy police commissioner Alik Ron. "I don't believe it can be a move that will stand on its own when we move down the road, but we must start with something." Haim Ramon said that there is no plan regarding the Israeli-Palestinian conflict that is problem-free, and there never was, saying, "there's evil, and there's the lesser evil – so it was with the separation fence and with exiting the Gaza Strip – and it's the same here."