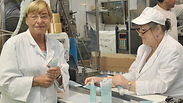 Ahava factory
Photo: Guy Asiag
The Israeli cosmetics firm Ahava Dead Sea is moving its factory from Mitzpe Shalem to an area outside of Kibbutz Ein Gedi, according to a deal signed this week.

The move will held mitigate the difficulties the company experienced because of the European boycott of goods produced in the West Bank. Ahava has been under pressure from BDS and foreign pro-Palestinian groups, and three years ago had to close its London branch after the store became a central point for protesters calling for a boycott of Israel.

Ahava is not the only company that caved into boycott demands to move their factory from the West Bank: SodaStream recently moved its Ma'ale Adumim factory to the Negev, Bagel Bagel – owned by Unilever – moved its production facilities from the Barkan Industrial Zone in the Samaria region at Unilever's request, and Multi-lock also moved its production facilities from the Barkan Industrial Zone.

The new Ahava factory will be built with a NIS 25 million investment on land leased from the kibbutz for 25 years, and it is estimated that the factory will take two years to build. The factory will also include a visitor's center.

Ahava announced that it was examining the possibility of relocating from Kibbutz Mitzpe Shalem to the Tamar Regional Council last June. The head of the Tamar Regional Council, Dov Litbinof, told Yedioth Ahronoth at the time that the two locations being looked at were next to Kibbutz Ein Gedi and next to Neve Zohar.

Ahava is owned by Gaon holdings and the Livnat family in Kibbutz Kalyah, Kibbutz Mitzpe Shalem, and other Kibbutzim in the Dead Sea area. The company is expected to be sold to the Chinese company Puson for approximately NIS 300 million.

The acquisition of Ahava by Puson was done through the Puson Capital Investment Fund. After the transaction, Puson intends to open up the Chinese market to the company's products.

Ahava operates in over 30 countries, and distributes wholesale through department stores and in a chain of shops in Hungary, Germany, Korea, Singapore, and the Philippines.