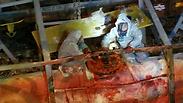 Bromine leak after train accident
Two trains carrying bromine collided outside of Dimona in the early hours of Tuesday morning, causing caustic chemicals to leak out of several tankers.

Residents were advised to stay in their homes, and roads leading to Dimona were closed off overnight. Meanwhile irefighters and workers from the Ministry of Environmental Protection worked to remove the hazardous waste. Police reported that they had the situation under control later Tuesday morning, and the roads were re-opened. Residents of the city then returned to their normal daily routine.




The accident occurred after a freight train collided with several tankers which were on the tracks approximately half a kilometer south of the Dimona train station, causing several tankers to leak.

Paramedics treated seven people – two train conductors and five residents who live in the area. The two conductors suffered bruises as a result of the crash, while the rest suffered from severe eye irritation. All seven were evacuated in light condition for initial screening in Dimona, and were then evacuated to Soroka Medical Center in Be'er Sheva. They stayed overnight for observation, and four have since been released.

The Director of the Ministry of Environmental Protection , Israel Danzinger, instructed ministry personnel to carry out a full investigation of the event. A decision will be reached over whether or not to take legal action against Israel Railways following the investigation. Under ministry advisement, shops in the area are to remain closed until the contaminated soil is cleaned.

Head of the firefighting brigades for the south, Moshe Swisa, described the incident: "There was a crash between two trains carrying bromine from the Dead Sea, and it seems there was a lack of communication between the two trains. As a result of the crash, one of the trains overturned, causing bromine to leak from several tankers. Exposure to bromine may cause extreme difficulty in breathing. Residents within a one kilometer radius are in danger. A lot depends on wind direction, and if it changes on not."