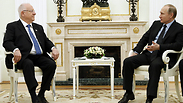 President Putin and President Rivlin
Russian President Vladimir Putin told President Reuven Rivlin on Wednesday that he had agreed to meet Prime Minister Benjamin Netanyahu soon to discuss the security situation in the Middle East.

The Russian president also spoke to Netanyahu on the phone, saying "We decided that we will speak at further length in the future about various issues."

Putin hosted Rivlin at the Kremlin on Wednesday afternoon.

"Mr. President, I welcome you with all my heart on arriving in Russia. I am happy to receive the Israeli president. Israeli-Russian relations have a long history. More than 1.5 million Soviet emigrants, who speak Russian and have a Russian mentality, live in Israel. They stay in touch with their friends and family members, who have stayed in Russia, making our relationship particularly special," he said.

Rivlin responded: "Mr. President, thank you for the warm reception. It is an honor for me to be here with you in your beautiful land. Russian and Israel have a very long history. We cooperate on many issues and we both deal with terrorism and fundamentalists. As a Jew, I would like to say that we will never forget the Russian nation and Red Army for defeating the Nazis. I want to thank you again for the invitation and I look forward to our meeting. We have many important issues to discuss."



Analysts expect Israel to raise its concerns with Russia regarding the former's withdrawal from Syria, which could strengthen Hezbollah and Iranian activities in the war-torn nation.

Chief of Staff Gadi Eisenkot discussed Russia's withdrawal from Syria on Tuesday at the Knesset's Foreign Affairs and Defense Committee, saying, "We did not receive prior notice just as others did not."

"At this stage, humility and caution are needed to understand how the situation in Syria will develop with the exit of the Russian forces from the region," he added.

According to the chief of staff, "The Russian intervention strengthened Assad, who now can go to peace talks in Geneva with an upper hand."

He also said that Russia will withdraw gradually and two bases will still operate with limited personnel. Thus, the withdrawal will not be absolute.

Alexey Drobinin, deputy Russian ambassador to Israel, spoke to Ynet about the withdrawal of Russian forces from Syria. He said, "We are leaving the region. Russian will leave behind an air force and navy presence. Withdrawal means that Russia is sending a clear message that the time has come to give bi-lateral political negotiations, between the government and opposition, a chance. We want the crisis to be resolved and we will do everything to so that Israel's national security is not undermined. We deeply understand Israel's interests vis-à-vis what is happening in Syria."

Before meeting with Putin, President Rivlin placed a wreath on the Tomb of the Unknown Soldier at the Alexander Garden. Thereafter, Rivlin visited the Russian State Library his wife Nehama, where they looked at books in Hebrew. He said that he hopes the books will one day arrive in Israel.