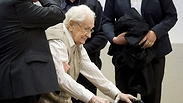 Undeterred by dwindling numbers of living suspects, Germany's top Nazi hunter is determined to keep tracking down criminals involved in Hitler's murder machine for another decade.

As a handful of new Auschwitz-related trials get underway, Jens Rommel says his work is getting more difficult every year and yields only modest results. But it still matters.

"We help to make sure these crimes don't disappear into history and that they have a relevance today. There is still a lot of work to do," said Rommel, no relation to Hitler's Field Marshal Erwin Rommel.

Ageing suspects, most of whom deny guilt, are growing frail, making the race to prosecute them all the more pressing.

Germany's state justice ministers last year gave Rommel's Central Office for the Investigation of Nazi Crimes up to 10 more years to continue its investigative work, before it is turned into a documentation centre.

The 2011 conviction of Sobibor death camp guard John Demjanjuk also gave it new legal territory to explore - it was the first time that involvement in a death camp was seen as sufficient grounds for culpability even without proof of a specific crime.

"Even with no hard proof of a specific deed, being a wheel in the machinery of a camp is now punishable," said Rommel.

"NEVER TOO LATE"

Demjanjuk's conviction 70 years after the crimes did not come too late for Dutch Jew David van Huiden whose parents and sister died in Sobibor's gas chambers.

"It's never too late because the crimes committed are so overwhelmingly heavy that even today nobody could understand how this could happen in a civilised society," said the 84-year-old who sat through some of the trial.

The case widened the net of possible suspects and triggered a wave of new investigations into guards, medics and other camp workers which has led to the current trials.

The same legal argument was used to convict Oskar Groening, the "bookkeeper of Auschwitz" last year and to charge camp guard Reinhold Hanning, on trial in Detmold.

Auschwitz guard Ernst Tremmel is to go on trial near Frankfurt in April while a case against Auschwitz medic, Hubert Zafke, this month stalled due to his frail health. Both are over 90.

Rommel, who took over the Office in October, is also sifting through former Soviet records and chasing leads in Argentina where many Nazis fled.

The intense activity at the organisation's base in the western town of Ludwigsburg coincides with a new zeal among young Germans to ask about their grandparents' role in the Nazi era.
PAST FAILURES
Many victims and perpetrators blocked out the traumatic experiences after the war to build new lives.

Now, few Germans openly oppose putting suspects on trial although some argue pictures of frail men in their 90s shuffling into courtrooms are grotesque.

Some criticise Germany for letting many high-ranking Nazis and SS members escape justice only for their juniors to be convicted now.

An international military tribunal put some top Nazi leaders, including Hermann Goering and Rudolf Hess, on trial soon after World War Two in the Nuremburg Trials.

But in the 1950s and 60s, a West German judiciary comprising many former Nazis had little appetite to pursue Hitler's henchmen at a time when many Germans argued they had been held hostage by 'Der Fuehrer'.

Between 1945 and 2005 West German courts convicted 6,656 Nazi criminals out of more than 36,000 investigations into more than 170,000 suspects, a study by historian Andreas Eichmueller showed in 2008. The numbers, which also include prosecutions in the former Communist East since 1989, have only increased by one or two since then, he said.

"From today's point of view and in terms of victims' need for justice, there has certainly been (a failure of justice)," said Eichmueller, of Munich's Nazi documentation centre.

But he also argued that given the scale of support for the Nazi regime among Germans, it would have been unimaginable to put tens of thousands of people on trial.

Rommel acknowledges the past failures but is pragmatic. "It is unsatisfactory that so many were not pursued, but today I have to pursue those who I can."