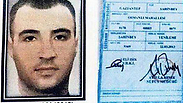 Suspected terrorist Savas Yildiz
Turkish authorities arrested on Saturday night the parents of Savaş Yıldız, the man suspected of perpetrating the grave terrorist attack earlier that day in Istanbul in which at least three Israelis and an Iranian were killed.

The Turkish news agency Doğan reported that the blood samples of the father, who resides in Adana, were sent to Istanbul for DNA tests to check if the body found at the scene of the attack is indeed the 33-year-old Yıldız.

According to Turkish reports, the alleged suicide bomber, sent by ISIS, was involved in attacks in Mersin and Adana, in southern Turkey, last year. Three were wounded in those attacks. Yıldız fled to Syria immediately following those attacks and was placed on the wanted list by local police, which contains a further four ISIS operatives that fled to Syria via Turkey and planned suicide attacks in the country.

Shortly after the attack, official Turkish sources were quick to blame the resistance Kurdistan Workers' Party (PKK). The Kurdish organization took responsibility for the murderous attack at the beginning of the week in Ankara. Only once the investigation began in the afternoon did the Turkish authorities change their initial assessment, instead blaming ISIS. No organization has yet claimed responsibility for the attack.

The terrorist attack took place shortly after 11am local time on the central Istiklal Street, which is considered one of the main tourist hotspots in Istanbul. Four persons were murdered, including three Israelis, and 36 were wounded, most of who are tourists from Israel, Ireland, Germany, Iceland, Iran and the United Arab Emirates. Western diplomatic sources reported to Turkish news site Hürriyet that it was possible that the terrorist was purposefully targeting tourists.