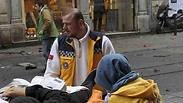 Scene of the attack in Istanbul
Photo: Reuters
Israel upgrades travel warning to Turkey following deadly bombing
Turkish forces were on high alert in Istanbul following concrete threats against Germany consulate 500 meters from the scene of the bombing, but that did not stop the attack that claimed the lives of four people - three of them Israelis.
In the wake of the suicide bombing in Istanbul that claimed the lives of three Israelis and wounded 11 others, Israel's Counter-Terrorism Unit decided on Sunday to upgrade the travel warning to Turkey.

At least four people were murdered - three Israelis and one Iranian national - and 36 wounded in the suicide bombing on Saturday morning on the city's famous Istiklal Street, a popular tourist destination visited by many people on weekends. Among the wounded Israelis were members of two different tour groups, which apparently met on Istiklal Street just before the attack.

Israeli tour groups and individual tourists continue visiting Turkey, despite recommendations by the Counter-Terrorism Unit in recent years to avoid non-essential visits to the country, as there is a continual threat to Israelis and Jews in general. To those who do choose to travel there, the Counter-Terrorism Unit recommends to take extra precautions and remain vigilant.

"Recent months have seen a considerable upsurge in the threat level in Turkey, which has found expression in the significant magnitude of terrorist attacks, especially suicide attacks by the Kurdish underground and Daesh, throughout the country, notably in Istanbul and Ankara," the National Security Council Counter-Terrorism Bureau (NSCCTB) said in a statement on Sunday, using the Islamic State's Arabic name. "Yesterday's deadly attack in Istanbul, in which a group of Israeli tourists was hit, underscores the threat against tourist targets throughout Turkey."

"In the wake of an NSCCTB assessment of the situation, it was decided to update the existing travel warning vis-à-vis Turkey from an ongoing potential threat to a basic concrete threat, and to reiterate our recommendation to the public to avoid visiting the country," the statement went on to say.

Meanwhile, the Israeli Foreign Ministry's director-general, Dore Gold, cut short his visit to Washington for the AIPAC Conference to travel to Istanbul and help in coordination with Turkish authorities. This is the first visit of such a highly-ranked Israeli official in Istanbul in several years.

Gold's visit holds a diplomatic message as well - Israel and Turkey want to show coordination between them. Gold's visit follows a condemnation by Prime Minister Benjamin Netanyahu of the terror attack in Ankara last week, after he had been avoiding condemning the recent terror attacks in Turkey. This condemnation, and now Gold's visit, could mark progress in reconciliation talks between the two countries.

Nevertheless, the IDF's Deputy Chief of Staff, Yair Golan, said on Thursday that Turkey was "a very problematic element," and noted that "as long as Turkey is ruled by a party that has a strong Islamistic orientation, by an oppositional ruler like Erdogan - we'll face problems and challenges."

On Saturday, Netanyahu stated that: "I didn't talk to Erdogan, but we are in contact with the Turkish authorities. The Foreign Ministry Director General spoke with his Turkish counterpart and, naturally, we are trying to clarify things in the intelligence sphere. We currently have no confirmation that this terrorist incident was directed at Israelis."

When asked about Israel's cooperation with Turkish authorities, he said: "At the moment we have no complaints, but we obviously want to get the information. Usually in situations like that there's cooperation, it's natural, it's obvious."

This is the fourth suicide bombing in Turkey since the beginning of 2016. The country has been on high alert for the past few days, after a bombing in its capital Ankara killed at least 37 people and wounded over 100 others on March 13.

Turkish forces were deployed across Istanbul in great numbers on Saturday, particularly in the area of the German consulate, 500 meters from the scene of the bombing.

The German consulate, as well as a German school and the German Embassy in Ankara, were closed down two days before the attack in light of "very concrete intelligence" of a terror threat to the German missions in Turkey, and remained closed on Saturday.

Turkish newspaper Hurriyet reported that a sign outside the German consulate stated it was closed due to a "serious warning."