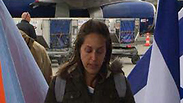 Daughter of slain Avi Goldman
Three Israelis were murdered and 11 others wounded in the Istanbul suicide bombing on Saturday morning - Avraham Goldman, 69, from Herzliya; Yonatan Suher, 40, from Tel Aviv; and Simcha Damri, 60, from Dimona.
Simcha Damri and her husband Avi, who was moderately wounded in the attack, were on a culinary tour to experience the tastes of Turkey when ISIS terrorist Mehmet Ozturk blew up himself near their tour group.

The group had breakfast on Saturday morning and began to walk down the popular pedestrian boulevard of Istiklal Street. "I saw a store that had 'XOXO' written on it; I wanted to take a picture of it to send to my daughter in Israel," Avi recounted. He hung back from the group, intending to message 24-year-old Adi a message of kisses and hugs.

"Suddenly, I heard a terrible explosion, and everything was flying. I couldn't see my wife," he said.

All 14 members of the tour group were caught in the suicide bomber's blast. Avi suffered two broken legs and a punctured lung. "I can barely speak," he told Ynet, "and I don't know where my wife is."

Hours passed. Forty people were caught in the explosion, most of them tourists. Avi's wife could not be found.

Deputy Speaker of the Knesset, Meir Cohen, a former mayor of Dimona, is a close friend of the Damris. "I hoped all day that the fact that (Simcha) had not been located would end well. To my great sorrow, this didn't happen."

Late Saturday night, Simcha Damri was identified as one of those murdered in the explosion.

Avi and Simcha are known throughout their hometown of Dimona, where the couple runs several businesses, including a catering company and a bakery, and they have four grown children.

Yonatan Suher also went on a culinary tour of Turkey with his wife, to celebrate his 40th birthday.

The couple, who had two children, lived in Tel Aviv, but Yoni is originally from the Kvutzat Shiller kibbutz in central Israel; in fact, he was dubbed "the kibbutz's first great grandchild." He grew up there, went to school there and married his wife, Inbal Marom, there.

Yoni did his military service with the military police. He later received his bachelor's degree in law, and he worked in the hi-tech industry.

Inbal is in serious but stable condition. A friend of hers reported that she is conscious. Her parents flew to Istanbul following the attack to be by her side.

Yoni's side of the family is back in Israel, gathered together at their home in the kibbutz and accompanied by representatives of the Israeli Foreign Ministry. It was there that they received the news that Yoni had been killed in the blast.

Avraham Goldman (commonly known as Avi) and his wife Nitza loved to travel. They particularly enjoyed shorter trips in which they could immerse themselves in cultures and food, exploring restaurants and wineries abroad. When they took longer vacations, they would travel to Florida to spend time with their daughter, who lives there with their five grandchildren. They have a further two children and three grandchildren.

Avi's love of travel led him to take up work in recent years as a tour guide for visitors to Israel. He spoke English fluently, and his clients were largely foreign VIPs and businessmen, such as former New York mayor Michael Bloomberg, who even wrote Avi a thank-you letter following his trip.

The Goldmans lived in Herzliya, but Avi would of course take visitors to see Jerusalem, to the dismay of his friends, who were worried for his safety in light of the frequent terror attacks in the capital. "(Avi) would explain that he kept a kitchen cutting board in his backpack," said one of his friends, Amit, "so if he was stabbed, the cutting board would stop (the knife)."

Nitza and Avi were with their group at the time of the attack. She was lightly wounded, underwent surgery on Saturday in Turkey, and will likely need further operations. Avi did not survive.

"We're all completely shattered," said Amit. "We sat all night and wept." He added that the Goldmans' daughter from Florida is on her way to Israel.

The Israeli Foreign Ministry has been coordinating with Turkish officials, the IDF and Magen David Adom to return the wounded and the remains of the murdered to Israel.




President Reuven Rivlin released a statement on Saturday night: "The heart aches for the victims who lost their lives in the horrific terrorist bombing in the heart of Istanbul. We send our condolences to the families in mourning, pray for the well-being of the injured and hope for their swift return to Israel."

Turkish Prime Minister Ahmet Davutoğlu addressed Israelis: "I would like to convey my condolences to the families of the Israeli citizens who lost their lives in the heinous attack which happened in Istanbul and to the people of Israel, and wish a speedy recovery to the wounded."

The culinary tour group's guide, Dudi Califa, who was also wounded in the attack, urged others in a Facebook post from his hospital bed in Turkey to "Please pray for them with us."

Ran Boker, Rotem Elizera, Itamar Eichner, Danny Spector contributed to this story.