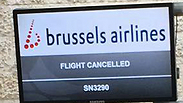 Flight cancelled to Brussels
Several European countries and the US have tightened or reviewed airport security following the twin explosions at Brussels Airport in an attack claimed by ISIS.
However, this terror attack didn't exactly surprise Israeli security experts.
"In terms of airport security, the Europeans are 40 years behind Israel," said former head of security for the Israel Airports Authority, Pini Shif.
Ben Gurion International Airport in Israel incorporates several layers of security, even before arriving at the departures hall itself. Security personnel have access to passenger lists, and are able to crosscheck those lists with lists of people under surveillance in order to know immediately who has to go through a stricter security check.
The first security checkpoint is actually on the road to the airport, where security personnel check travelers and the people bringing them. There is then another layer of security to physically get into the departures hall, where passengers who arouse suspicion are checked.
In Europe by contrast, anyone who wants to go into a departures hall can, and can even bring in luggage. The first security check only happens after checking into the flight, and after the passengers' luggage is already tagged.
Following the attacks in Brussels, authorities in London, Paris and Frankfurt responded to the attacks by stepping up the number of police on patrol at their airports and other transport hubs.
In the United States, the country's largest cities were placed on high alert and the National Guard was called in to increase security at New York City's two airports.
Shlomo Har-Noi, whose company Shadma advises on how to secure critical infrastructure, says "in Europe and the US, they invest insane amounts of money on hi-tech security systems, but they are fighting yesterday's war and they aren't investing in the human element. Someone who focuses on taking a water bottle away from some old lady will never find explosives."