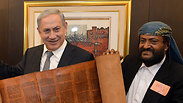 Prime Minister Benjamin Netanyahu with the Torah scroll
Photo: Haim Zach, GPO
Among the people arrested by the Houthis in Yemen following the "smuggling" of a 600-year-old Torah scroll by the 17 Jews who were brought to Israel in a secret operation on Monday was a member of the Jewish community who remained in the country, British weekly The Jewish Chronicle reported.

The Houthi rebels launched an investigation and made arrests following what they considered to be the smuggling of the ancient Torah scroll, which they view as "the property of the Yemeni people."

Photos of the new arrivals with the Torah scroll caused an uproar in Arabic-language media and enraged the Houthis, who have been in control of the capital Sana'a for over a year now. Moreover, it seems that among those arrested was a senior official of Sana'a's airport.

Senior officials of The Ministry of Immigrant Absorption strongly criticized the Jewish Agency on Friday, claiming that the publication of the operation damaged efforts to increase similar efforts in other dangerous areas of the world in the future. "The publication endangers Jews remaining in Yemen and those involved in the matter," they stated.

Moti Kahana, president of the relief organization Amalia, who orchestrated the covert operation to bring the last Jews of Aleppo to Israel told Ynet Saturday, "When the children of those immigrants from Aleppo landed in Israel a few months ago our operation in conjunction with rabbis from New York, we kept the matter secret so as not to endanger those left behind. When I saw the media coverage now, I knew that whoever was left behind is in a very dangerous situation. Our goal now is to keep those who remain in Yemen safe."

The Jewish Agency said in response that "The publication was done in full and careful coordination with the authorized parties, with consideration of the rules of censorship."

There was also embarrassment in Jordan following the publication in the newspaper Asharq Al-Awsat, according to which the Yemeni emigrants first landed in Jordan's Queen Alia International Airport before arriving in Israel.

Jordanian officials quoted by the local press tried to belittle the information presented, stating that "Entry to Jordan is based on their nationality and not on the basis of their religion. In other words, Jordan treats passengers as citizens of Yemen without consideration of their religion."