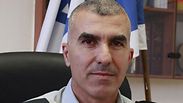 תא"ל מוניר עמאר התרסקות מטוס ב הר כמון
Brigadier General Munir Amar, Head of the IDF Civil Administration passed away in a plane crash in the Lower Galilee Friday afternoon
Amar, a resident of Julis in northern Israel, had just celebrated his 47th birthday with close friends and family on Thursday.
A husband and father of three children, he served in the army after being drafted for his compulsory service. He was just appointed as head of the Civil Administration in the West Bank.
Azzal Amar, Munir's family member, described him as "a humble individual with a good heart. He usually did not enter the village in uniform because he did not want the residents to see his high ranks. Moreover, his house was open to everyone."
Munir's cousin, Afif Amar, remarked, "Munir did wonders for the advancement of Israel's security. This tragedy will always weigh heavily on (our) family, but we know how to get through this."
Nadim Maadi, Munir's friend, said that he last spoke to his Munir before he was promoted to the rank of brigadier general. "I felt that he was happy about the rank advancement, especially since he did so on his own merit. He was a kind soul. We are deeply saddened by his passing."
Amar took off in a plane from an airport in Haifa and crashed around 1:30PM near Mount Kamon Friday afternoon. Rescue teams were deployed immediately to search for BG Amar after contact with his plane was lost. Firefighters found the plane shortly thereafter, and a team from air force search and rescue unit 669 withdrew Amar from his plane, but he had already passed away.
He had just started his first position as brigadier general a month ago when he replaced David Menachem as head of the Civil Administration.
He began his military service in the Herev Brigade, which he eventually commanded from 2004-2006. He later served as deputy commander of the Shomron Brigade, an officer in the Galilee Division's Operations Branch, and an operations officer in the Northern Command. In 2009, he was appointed as commander of the Hermon Brigade, where, in light of the Syrian civil war, he took the lead in re-enforcing and demarcating the Israeli border with Syria, and in improving IDF readiness to defend against threats emanating from the tri-border region in the southern Golan Heights.
In August 2013, he was appointed commander of the Homefront Command's Haifa District where he worked to prepare authorities and the Arab sector for emergency situations. He frequently visited factories to make sure that they implement military orders.
Amar also earned great praise when he served as a commanding operations officer in the Northern Command. In February 2015, Amar was promoted to brigadier general and assumed the responsibilities of head of the Civil Administration.
Ammar held a bachelor's degree in Israel Studies and master's in political science, both from the University of Haifa, in addition to another advanced degree from the National Defense College.
Chief of Staff Gadi Eisenkot expressed his deep sadness for Amar's death.
"Munir was an exceptional officer, who served in a number of senior IDF positions with success." He added, "We share the pain of (his) family and we are embracing it during these difficult hours."
Minister of Defense Moshe Ya'alon said that his death is an enormous loss for the IDF and the State of Israel. The Yesha Council also issued a statement, mourning Amar's passing.