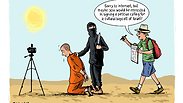 קריקטורה bds תנועת ה חרם הסברה איורים
Illustrator: Guy Morad
The fight against BDS has now extended to the artistic arena. A significant number of key figures and politicians have joined forces for the good of hasbara (Israeli public relations) in its struggle against the propaganda of organizations calling for a boycott of Israel.

They have recruited to the struggle leading artists from Israel and abroad who will present their "hasbara caricatures" at an exhibition to be presented at Ynet and Yedioth Ahronoth's Conference dedicated to the fight against BDS on Monday, March 28, in Jerusalem.



This unique hasbara initiative is led by the artists Uri Fink, Shai Charka, Yossi Klar and Asaf Finkelstein, who are acting through their Facebook page, "The Israeli Cartoon Project." Finkelstein, who understands the power of caricatures in the digital world, explained, "The project was founded because of the hurt and frustration that many Israelis and Jews all over the world were experiencing because of the anti-Israeli campaign."

He added, "The dozens of artists taking part in the project hope to increase the Israeli hasbara's chances of attracting attention from different communities around the world and get a fair chance at competing in the public-relations arena."

Klar said that the idea came together about a year ago when Britain's National Union of Students decided to boycott Israel, but not ISIS. "We understood that Israel had a serious problem," he said, "because if they're boycotting Israel and not ISIS, then are we worse then they are?"

He added that the Facebook page was founded to be a platform that would be a sort of "home for hasbara" with caricatures and without a political agenda.

"We acted with the understanding that a picture is worth a thousand words. For us, a caricature is worth a thousand pictures. It's important that we have a wide tent, without a political left and right, just Israel in the eyes of the world. This is a very efficient method; if there's something that Jews are really good at, it's humor, and we've found that this is the right way to influence others."

Israeli illustrator and comedian Uri Fink joined this unique journey; he wasn't hard to convince. "It was completely logical to me," said Fink, "Asaf came to me with the idea that we would use caricatures because he had noticed that PR wars are fought through them. In our generation, caricatures are the best weapon that you can send to your friend on Facebook and share on Whatsapp and Twitter."

Fink added that thus, the message is transmitted intelligently, sophisticatedly and humorously. "We're basically giving people a weapon on Facebook, and they'll know from where to take the appropriate caricatures and share them. It's simply wonderful that you can see on all the caricatures how many times they've been shared and how many people have 'liked' them.

"We didn't set out to draw just to show off. Lots of people think that we work for the government, but that's incorrect. We don't receive any remuneration and are doing this to share our truth and to help the State of Israel."

As of today, the Facebook page has gathered more than 13,000 likes, and it has more than 120 caricatures. Finkelstein said, "We call on everybody to take part in the project and to be involved by following our Facebook page."