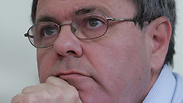 Settler leader Dani Dayan appointed Israel's Consul General in New York
Dayan was initially appointed as Israel's ambassador to Brazil, but Brazilian President Rousseff expressed unease at the appointment due to Dayan's settlement ties; PM backtracks in an effort to prevent a diplomatic crisis with an important ally.
Prime Minister Benjamin Netanyahu has appointed settler leader Dani Dayan as Israel's Consul General in New York, it was announced on Monday.

The former head of the Yesha Council was initially appointed as Israel's ambassador to Brazil, but the Brazilian government has stalled for months on the approval of the appointment.

Dayan will replace Ido Aharoni, a Foreign Ministry official, this coming summer.




"Those who don't want me in Brasilia, will get me in the capital of the world and to me that is a victory," Dayan said on Monday at the Ynet and Yedioth Ahronoth's anti-BDS conference. "I believe I can revolutionize Israeli public relations in the US, whose beating heart is in New York."

Dayan, 59, was born in Argentina, and has an MBA in finance. He was chairman of the Yesha Council between 2007-2013 and was called the settlers' "foreign minister" due to his notable public relations skills. He lives in the settlement of Ma'ale Shomron, about 10 kilometers east of Qalqilya.

Dayan coveted the role of the Consul General in New York to begin with, while the prime minister wanted to appoint someone else for the job.

In August, Dayan was announced as Israel's next envoy to Brasilia, but Brazilian President Dilma Rousseff passed on messages to Israel that she was uncomfortable with the appointment because of Dayan's ties to West Bank settlements.

Rousseff's unease came about after 40 well-known organizations in Brazil signed a petition calling on her to decline approving the appointment on the grounds that Dayan's appointment is a violation of international legitimacy and a challenge to the sovereignty of Brazil. Several Brazilian MPs have also joined the protest.

This placed Netanyahu, who also serves as the foreign minister, in a dilemma.

According to diplomatic protocol, when a government appoints an ambassador, it sends his or her name to the host government and asks for its permission (in diplomatic jargon, an "agrément").

A host government's refusal to accept an ambassador is very rare, and usually, in order to avoid a diplomatic incident, it is customary to send hushed messages conveying that it would be better to retract the candidate's appointment so as not to encounter rejection.

But Netanyahu did not want to bring about the anger of the right wing and in order to avoid a diplomatic crisis with Brazil, eventually folded.

Netanyahu sees relations with Brazil as an important strategic goal for Israel. Brazil is the largest country in South America, with a population of 200 million, and it has the seventh largest economy in the world. Israel has made a point of developing trade relations with the international markets in Latin America, particularly with Brazil.