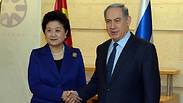 בנימין נתניהו Liu Yandong ליאו יאנדונג ישראל סין יחסי חוץ
Photo: Haim tzach/GPO
Prime Minister Benjamin Netanyahu expressed gratitude and appreciation to visiting Chinese Vice Premier Liu Yandong for her determination and commitment to complete a free- trade agreement with Israel during a meeting at the Israeli Foreign Ministry on Tuesday.

"I was very glad to hear today from Vice Premier Liu that China is ready to start negotiating for free-trade with Israel," Netanyahu remarked. "This is a significant development and we are ready to do it immediately."

According to Netanyahu, a free-trade agreement would significantly improve bilateral cooperation in many different sectors.

"There is so much we could do together—in health, distance education, agriculture, aquaculture, information technology, in all fields," said Netanyahu. "Cooperation with China could yield major results and we believe Israel can be the perfect partner."

Vice Premier Yandong fully concurred with Netanyahu's assessment. "We need to continue this cooperation for the benefit of both peoples," Liu said. "Israel and China are moving in the direction of major joint projects."

A future free-trade agreement would cover a variety of issues including standardization, implementation of regulations, and the removal of existing trade barriers for imports and exports. It would also detail bilateral cooperation in the technological and economic sectors.

A free-trade agreement between Israel and China may not only increase the gross national product of both countries, but also would most likely double the total value of traded goods between both countries, which currently stands at $8 billion.

The meeting today between Netanyahu and Yandong was the second to take place through the Innovation Committee that was founded during Yandong's 2014 visit to Israel. The committee, led by Israel's Foreign Ministry and China's Ministry of Science and Technology, first met in the Chinese capital of Beijing in January, 2015. It is the largest intergovernmental platform between Israel and China.

Other top Israeli officials present at the meeting were Health Minister Yaakov Litzman (United Torah Judaism), Technology Minister Ofir Akunis (Likud), Deputy Foreign Minister Tzipi Hotovely (Likud), Foreign Ministry Director General Dr. Dore Gold, and Israeli Ambassador to China Matan Vilnai. Vice Premier Yandong was joined by other Chinese officials, including the ambassador to Israel, the minister of science and technology, the deputy foreign minister and the deputy health minister.