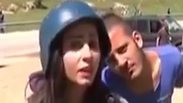 Israeli settler interrupting Palestinian TV reporter
A video of an Israeli settler interrupting the report of a Palestinian journalist went viral on Palestinian social media over the weekend.

The reporter, from a small TV station called Roya TV, was in Nabi Saleh on Friday to cover the weekly protest.

During her report, a young Israeli wearing a kippah walked into the frame and started interrupting her, making faces at the camera and chanting "El, el, Israel."

Israeli settler interrupting Palestinian journalist's report

Later, the young man pointed to the writing on his shirt and told the reporter in Hebrew: "Read this, the Samaria is the state's Iron Dome."

The reporter responded by telling her viewers: "This is actual proof of the filth of settlers and their illegal presence on Palestinian land."

The video went viral on social media over the past 24 hours and received thousands of shares, with some calling the interrupting Israeli names.

Israeli youth clashed with media teams who came to cover the protest on Friday. Among other things, the Israelis were documented snatching a camera from one of the cameramen and blocking a reporter who was trying to reach her vehicle.