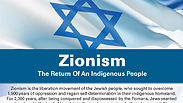 One of the censored displays
The United Nations has decided to censor displays on the topics of Zionism, Jerusalem and Israeli Arabs included in a new exhibit about Israel, deeming them "inappropriate."

Israel's Ambassador to Israel Danny Danon, who organized the exhibit in cooperation with StandWithUs, wrote to UN Secretary-General Ban Ki-moon, demanding that the decision be revoked.

If the decision is not revoked, Danon said he will display the censored topics as part of an exhibit protesting the absurdity of the UN's decision.

The exhibit was scheduled to open on Monday.

"According to this outrageous decision, Zionism doesn't befit the United Nations and that is why I decided to protest," Danon said. "We'll work to distribute the censored content to millions across the world."

About 40 years ago, the UN passed a resolution defining Zionism as racism, which was only cancelled 16 years later. Danon asserted that the UN's decision to censor the displays is in practice exactly the same as that resolution.

"By censoring displays on Zionism, the UN undermines the very existence of the State of Israel as the home of the Jewish people," Danon said. "We won't allow the UN to censor the fact Jerusalem is Israel's eternal capital."