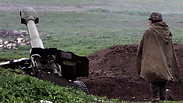 Fighting between Armenian and Azeri Militaries
Photo: EPA
Last week a group of Knesset members (MKs) went on an official visit to Georgia and Armenia. However, Deputy Minister Yaron Mazuz (Likud) refused to cross the border into Armenia following reports of war in the Nagorno-Karabakh region in Azerbaijan.

The region is an ethnically Armenian enclave inside of Azerbaijan, which is Armenia's neighbor to the East and West. Although the fighting was happening far from the minister and the delegation's location, Mazuz still requested to be returned to Israel.

However, Mazuz said in a response that he wasn't feeling well and that he didn't want to continue with the trip.

"I'm only afraid of the Creator and not what was going on there," Mazuz said. "It seems I ate something, and it caused me to not feel well. I wasn't feeling well at the hotel, and I said that it's not worth it for me to travel in this state. I don't travel outside the country very often, and it seems I didn't bring the right clothes or anti-nausea medicine."

Several hours after Mazuz's request to return to Israel was published, his bureau responded, "On Saturday morning the members of the delegation continued from Georgia to Armenia, but because I'm religious and keep the sabbath, I arrived at the border after the sabbath ended."

"When I arrived at the border," he continued, "I received guidance from the Security Directorate of the Prime Minister's office not to cross the border due to the security situation in the region, and that the directive may change in the morning. Due to the fact that I wasn't feeling well, and after waiting several hours at the border between Georgia and Armenia, I decided to return to Israel."

"As a public figure, I must follow directives given by security officials, and I acted according to those objectives," he added.

At least 30 people were killed in fighting between Armenian and Azeri forces in the Nagorno-Karabakh region earlier this week. The region has 150 thousand residents of Armenian ethnicity, has its own civil administration, and has been receiving military and financial aid from Armenia since the end of the Nagorno-Karabakh War between Armenia and Azerbaijan ended in 1994.