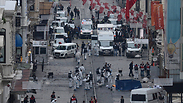 Scene of terrorist attack in Istanbul
The three Israeli victims of the Istanbul terror attack are to be recognized as victims of hostile enemy activity, the Ministry of Defense announced on Tuesday.

A letter written by the Ministry stated that, after a review of the evidence, the Ministry believes that is has "reasonable grounds to assume that the attack in Istanbul was aimed at Israelis."

In light of this decision, Deputy Legal Advisor to the Ministry of Defense Yedidiya Oron decided to recognize the attack as hostile enemy activity. This decision will allow those injured, including their families, to receive treatment from the Hostile Activity Directorate of the National Insurance.

Two days after the attack, Prime Minister Benjamin Netanyahu said that "our intelligence services are working to determine if the attack in Turkey was directed towards Israelis."

Last week, Turkish President Recep Tayyip Erdoğan denied that Israelis were the target of the attack which was carried out by an ISIS terrorist, saying "this was not directed at Israelis."

Victims of hostile enemy activity and their families are eligible, according to the law, for financial assistance and other benefits in order to help then and support them during their recovery process such as: medical expenses funding, financial aid for two months, rehabilitation, annual payments and one time lump sum payments.

The National Insurance is prepared to treat the victims of the Istanbul attack, and official claims have already been filed on behalf of those injured.

Two days after the attack, the Turkish President sent a letter to Israeli President Reuven Rivlin, saying "we must unite in the fight against terror which threatens all mankind and our basic values, and which presents crimes against humanity. I was very saddened to hear of the misfortune of the three Israeli citizens who died and the 10 Israeli citizens who were wounded in the terror attack in Istanbul."