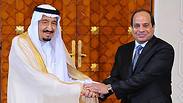 King of Saudi Arabia and President of Egypt
Photo: Reuters
According to the Egyptian newspaper Al-Youm Al-Sabaa, the Egyptian cabinet announced an agreement with Saudi Arabia on Saturday, delineating the maritime boundaries between the two countries.
The Saudi boundary now includes the islands of Tiran and Sanafir, which rest at the mouth of the Gulf of Eilat.
The agreement comes as Saudi King Salman visits Cairo, where he and his counterpart Abdel Fatah Al-Sisi announced another agreement to build a bridge between Sharm El-Sheikh and Saudi Arabia.
According the Egyptian paper, Egypt and Saudi Arabia held more than 11 meetings in the past six years to reach a resolution on the demarcation of their maritime boundaries including three meetings in the past four months.
Saudi Arabia allowed Egypt to take control of the islands in 1950 and former Egyptian President Gamal Abdel Nasser blocked Israeli ships from crossing through the Straits of Tiran in May 1967. Israel used the blockade as one of its casus belli in launching a pre-emptive strike against Egypt in the Six-Day War. Israel occupied the islands from 1967 until the full implementation of the Camp David Accords - the Israel-Egypt peace treaty - in 1982.
Following the Israeli withdrawal from the islands, Egypt regained control. The Multinational Force Observers (MFO) - a US-led force established as a part of the Camp David Accords to monitor the Israel-Egypt peace agreement - set up an observation post on the island of Tiran in order to ensure the freedom of movement of Israeli vessels through the straits. The MFO still maintains presence on the island.
The implications of the Egyptian-Saudi deal for the MFO and Israel and Israeli-Egyptian relations remain unclear.