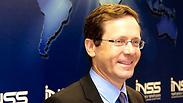 Zionist Union Chairman Isaac Herzog
Photo: Motti Kimchi
Attorney General Avichai Mandelblit is expected to meet with the head of the Investigations Directorate and the State Prosecutor in order to officially determine whether or not to open a criminal investigation into opposition leader Isaac Herzog's campaign finances this week. .

He is suspected of illegally using funds from his private company – which specializes in bringing foreign caregivers into Israel – to fund his campaign during the primaries in 2013.

The initial investigations into Herzog's finances recently began after gaining the approval of the Attorney General. Herzog was going up against Shelly Yachimovich at the time.

Herzog associate and former Labor Party Chairman Shimon Batat was already questioned, and denied the allegations. However, in light of recent findings, an assessment has been made for the Attorney General to open an investigation into Herzog's campaign finances.

Allegations have been made that Herzog used a team of lawyers to hide the money, and make the financial transfer from his private company to his campaign appear legal.

Herzog has agreed to fully cooperate with the investigation, but described the charges as a "political assassination."

Another associate of Herzog said that "ever since news of the investigation was leaked, Herzog announced that he is willing to fully cooperate with the investigation with the relevant authorities in order to put this issue in the past."