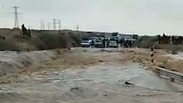 Flooding in southern Israel
Photo: Yoash Limon, Eran Doron
After an unusually hot weekend, spring has taken a time out on Tuesday as temperatures dropped and rain began to fall across Israel.

According to weatherman Tzachi Waxman of Meteo Tech, scattered showers will continue into Wednesday and will be accompanied by thunderstorms, strong winds and hail.

Haifa held the rainfall record on Tuesday with 19 mm of precipitation by late afternoon. The Golan Heights saw up to 15 mm, the Shfela area (lowland region in south-central Israel stretching over 10-15 km between Mount Hebron and the coastal plain) also registered 15 mm, while the Upper Galilee saw 10 mm and the Sharon plains received only 8 mm of rain.

According to Waxman, the height of the storm is still ahead with forecasts of thunderstorms and strong winds throughout the night. Moreover, heavy rains are expected to threaten to flood Israel's streets.

The downpour will continue across Israel throughout Wednesday, particularly inland and in the eastern part of the country where there exists a higher risk of flooding.

The rains will dwindle by Wednesday evening and are expected to stop almost completely by Thursday giving way to a clear and fair weekend.