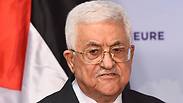 Palestinian President Mahmoud Abbas.
Photo: AFP
The brother of Palestinian President Mahmoud Abbas is hospitalized in critical condition at Assuta Medical Center in Tel Aviv. His admission to the Israeli hospital took place in secret.

Abu Lawi, Abbas's 76-years-old younger brother, does not live in the Palestinian Territories, but rather in Qatar with his wife. He was recently diagnosed with cancer and of all places decided to receive treatment in Israel.

Abu Lawi has been treated and hospitalized at the luxurious private Tel Aviv hospital previously. After each round of treatment in Israel, he returns to his home in Qatar.

In the past two years, the Assuta Medical Center has treated two other members of the Abbas family. In summer 2014, after the kidnapping of the three Israeli teenagers in Gush Etzion, Abbas's wife, Amina, underwent leg surgery at Assuta.

Moreover, just six months ago, Abbas's brother-in-law underwent a life saving heart operation at the same hospital.