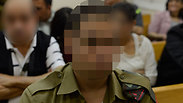 The Hebron Soldier.
Photo: Yuval Hen
The soldier who shot and killed a neutralized terrorist in Hebron three weeks ago will be charged with manslaughter, as per an official prosecutor's statement issued to the military court in Jaffa on Thursday. A group of ten people, equipped with a sound system, demonstrated outside the courtroom in support of soldier. "Whoever kills terrorists is an Israeli hero," they shouted.
The soldier's attorney, Eyal Baserglick, said during the court session that there was no cause for keeping the soldier under detention. "The court ruled unambiguously that the investigative evidence shows another investigative way of examining the defendant's actions, and the defense's video shows this with a string of many testimonies. The court is rules that, at the very least, there is an honest mistake here," he said, continuing, "The prosecution's evidence pieces are collapsing one after the other like a house of cards." He claimed that the trial can go on with the soldier not detained.
The prosecutor, Lt. Col. Adoram Rigler, said the soldier should be kept in detention due to new evidence strengthens the prosecution's case. According to Rigler, the forensic pathologist's report states that the terrorist's death was caused by the soldier's headshot, and that none of the other shots could have caused his death.
The court decided to extend the soldier's remand by another five days.
Military prosecutors were initially investigated the Hebron incident as a murder, but have now apparently decided to downgrade the charge. The soldier is currently out of military jail, but being kept in open detention at an IDF base in central Israel.