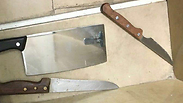 Knives found on two Palestinian minors in Jerusalem
Two attempted terrorist attacks were thwarted in the Gush Etzion region and in Jerusalem on Thursday.

The first occurred when an ax-wielding terrorist suddenly emerged from behind a bush near an IDF security pillbox opposite the Al-Arroub refugee camp in Gush Etzion and charged at a nearby group of IDF soldiers from the Kfir Brigade.

The soldiers, none of whom were wounded, immediately responded with fire and killed the attacker, who has been identified as Ibrahim Baradiya, a Hamas operative who was released from an Israeli prison.

In a separate incident in Jerusalem near the Chain Gate adjacent to the Temple Mount, two 12-year-old Palestinians aroused the suspicion of the police and Border Police and were stopped and searched.

During the search the police discovered three knives inside the jacket of one of the suspects and a farewell letter to his parents.

Both suspects were apprehended and brought in for questioning during which they confessed their intention to carry out an attack. One of the would-be attackers was from Qalandiya, located between Jerusalem and Ramallah, while the other was from Kafr Aqab in the municipality of Jerusalem beyond the separation fence.

The police later released a statement on the incidents emphasizing the alertness of the security forces.

"We are continuing our military assessments in the field. The police stationed in the field are trained to be increasingly alert and their military and professional training brings about increased security for the residents and tourists in the capital," the statement read.

The latest attempted ax attack on the Judea and Samaria Division took place in Hebron three weeks ago, a day after an IDF soldier shot and killed an attacker who had been disarmed and neutralized.