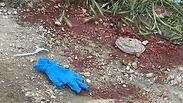 Blood at Al-Arroub attack
Palestinian security sources informed Ynet that Israel transferred to them on Thursday the corpse of the ax-wielding terrorist who attacked IDF soldiers in front of the Al-Arroub refugee camp. Several hours later, the IDF Spokesperson announced that the transfer was "a mistake following a misunderstanding that will be investigated."

At the end of March, Prime Minister Benjamin Netanyahu ordered Defense Minister Moshe Ya'alon not to return any more terrorists' corpses in the IDF's possession to the Palestinian Authority. Netanyahu's decision at that time was contrary to the positions of Ya'alon, Chief of the General Staff Gadi Eisenkot and Coordinator of Government Activities in the Territories Yoav Mordechai.




The IDF Spokesperson announced after the transfer was complete, "The policy for returning bodies is set in accordance with the decisions of the political echelon."

A senior officer in the Central Command explained this week that most of the terrorists' bodies were returned to the Palestinians in recent months and that the security services had the remains of only three West Bank Palestinian terrorists, all from the most recent terrorist attacks.

"Professionally, we said what places we think that it would be correct to return the bodies to," said the officer. "The West Bank is not monolithic; what is appropriate for one place may not be appropriate for another."