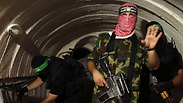 Hamas militants inside one of the tunnels
Photo: Reuters
Hamas's military wing dismissed on Monday the attack tunnel discovered by Israel as "nothing more than a drop in the bucket of what the resistance has prepared to defend the people and liberate our holy sites, land, and prisoners."

The Izz ad-Din al-Qassam Brigades also claimed that Israel had withheld from its citizens some information about the tunnels, but so far failed to elaborate on those details, claiming these will be revealed at the appropriate time.

"The Israeli occupation was not brazen enough to publish all the details, information, and facts about the resistance tunnel," a statement by the al-Qassam Brigades said.

Meanwhile, a senior Hamas official in Gaza told Ynet that he does not expect the discovery of the tunnel to lead to a major military conflict between Hamas and Israel. "Both sides are currently interested in calm and not an escalation that could lead to a new war. Indeed both sides are improving their respective military abilities, but no one can say what the future holds."

The Hamas official added, "Another war is expected, but no one can say if it will happen in another year, ten years, or twenty years. I am convinced that (things) are not (headed) in that direction at the moment.

"The situation between Gaza and Israel is stable. Both sides are in control of the borders and I believe neither side has an interest in an escalation. It is possible that the discovery of the tunnel could upset the stability, but it is still too early to make such determinations."