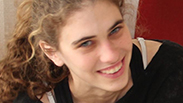 Slomit Krigman. The home of one of her murderers was demolished Wendsday.
Two Israeli soldiers were wounded early Wednesday morning, when in the course of demolishing the home of Hussein Abu Ghosh, one of the terrorists responsible for killing Shlomit Krigman in January. While the demolition was in progress, a violent protest began.

Protesters threw stones, Molotov cocktails, cinderblocks, and even an improvised explosive towards the Israeli forces. Two soldiers were lightly wounded, and were evacuated to a Jerusalem hospital. The forces responded with riot dispersal means, controlling the scene until the demolition was completed.

This is not the only recent incident in which IDF and Border Police forces have encountered violent protests during a home demolition. Earlier in April, the demolition of the Qabatiya homes of the two terrorists who killed Border Policewoman Hadar Cohen in February. A violent demonstration developed, with the Israeli forces using riot dispersal means to keep things under control then as well.