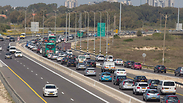 Holiday Traffic
Photo: Ido Erez
Vehicles making their way to Seder feasts around the nation began crowding Israel's roads on Friday as Jews all over the world prepare to celebrate Passover, which marks the exodus of the Jewish people from Egypt, from slavery to freedom.

Hundreds of police officers and volunteers from the traffic division were deployed across Israel to direct traffic in an effort to ease up on the expected congestion.

As part of the preparations for the holiday, the Israel Police raised the alert level to Level 3, and thousands of police officers will be stationed throughout the country during Passover in recreational spots and crowded areas. In Jerusalem, police reinforcements had boosted their presence, with a total of 3,500 police on patrol.

"These forces are patrolling in all public places, bus stations, shopping malls, tram stations," police spokesman Micky Rosenfeld said.

The officers and volunteers will focus on securing recreational spots and direct traffic when necessary. Police will also enforce laws to stop drunk drivers and other traffic violators. The traffic division warned the public to expect heavy traffic and recommended that they leave for their destinations as early as possible.

Quite a few Israelis are expected to celebrate Passover abroad. The Israel Airports Authority said over a million travelers are expected to pass through the Ben-Gurion International Airport during the seven-day holiday, with some 6,900 departures and landings - a 14 percent increase compared to last year.

The IDF has also made preparations ahead of the Passover holiday, and has closed off all crossing points between the West Bank and the Gaza Strip to Israeli territory for 24 hours from midnight Friday until midnight Saturday.

In Jerusalem, the police has issued a ban on Israeli ministers and members of Knesset from going up on the Temple Mount during the Passover holiday "for security reasons."

"However, the visits of tourists and Jewish visitors can continue normally," the police spokesman said.

The Defense Ministry distributed over 95 tons of matzah (both regular and Shmura); 15,000 cases of Haroset (a sweet dish used to symbolize the sweetness of freedom); 4,800 cases of Hazeret (romaine lettuce); and 27 tons of Kosher for Passover pastries to bases around the country.

Meanwhile, 480 lone soldiers from 35 different countries will hold a Seder feast at a village resort owned by the Association for the Wellbeing of Israel's Soldiers. They will be joined by IDF Chief of Staff Gadi Eisenkot.




President Reuven Rivlin and his wife Nechama will host a Seder feast at the President's Residence in Jerusalem. On Thursday, the president conducted a traditional bread search at his house with his grandson Shai, and on Friday night he will have two lone soldiers at his Seder table; Israel Mobas, who is a soldier in the Givati reconnaissance battalion, and Asher Harris, a counter terrorism instructor who made aliyah from Baltimore, Maryland, two years ago.

President Rivlin and Prime Minister Benjamin Netanyahu met on Friday morning to wish each other and the people of Israel a happy Passover.

"This is an opportunity to wish all the Israeli people a joyous festival, a holiday during which all the people are united. May we stand united against the challenges we face and overcome them," President Rivlin said.

Prime Minister Netanyahu added, "Mr. President, together with you, I send my greetings to all the 'house of Israel', and in particular to the Israeli servicemen and women, our soldiers, policemen and women, those serving in the border police, who watch over us all year round."

Weather for the Passover holiday is expected to be pleasant with a slight drop in temperature to be felt Friday evening. On Saturday the temperatures are expected to rise to higher than normal temperatures for the season.

Roi Yanovsky, Itay Blumenthal, Moran Azulay, Yoav Zitun, Elisha Ben Kimon and AFP contributed to this article.