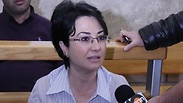 Joint List MK Haneen Zoabi has called for a change in the Palestinian Authority leadership and an end to its security coordination with Israel, the al-Quds al-Arabi website reported.

During a Balad party panel in Nazareth discussing Palestinian unity, Zoabi reportedly accused the Palestinian Authority's officials of behaving like thugs and hooligans. The panel was held under the auspicies of the Musarat center based in Ramallah and was attended by members of the Mada el-Carmel center based in Haifa, along with various academics and politicians from the West Bank.

Zoabi praised the Palestinians for ridding themselves of the "delusion that an Israeli peace partner exists," and called for self-reliance. She also called on Palestinians in general and the Palestinian youth movmement in particular to redirected their efforts to the fight for national liberation.

She argued that the Palestinian Authority is happy with, and benefits from, the current status quo, and therefore is against the youth movements' efforts towards national liberation.

The PA, she said, is oppressing the Palestinian people and preventing them of protesting against it, even on Facebook. "How can we reduce the power of the PA, and how can we circumvent it or even change it if it's impossible to protest? These are questions which are not answered in the document." Zoabi said.

Zoabi went on to say that "the PA constitutes an obstacle to change, change which needs to come from the street and grassroots movements."

Unlike some other Arab parties, Zoabi emphasized that her party Balad still sees the "Palestinians of 1948" (Israeli-Arabs) as part of the overall Palestinian nation, and that Balad views itself as part of the Palestinian national cause - not part of the Israeli left - and that it was at the forefront of the national Palestinian liberation project.

The MK told the people at the conference that the Balad party had promoted a plan to counter what she described as "the Zionist colonial project."

Zoabi also said that she sees the Palestinian reconciliation agreement as a gamble, and claimed that outside pressure is being applied to both Fatah and Hamas by outside forces that have an interest in keeping the Palestinians from unifying.

The Balad MK had no response to her comments when reached by Ynet.

The firebrand MK has been at the center of multiple political controversies and has consequently come under attack by many Knesset members. Indeed, she came under scrutiny when she refused to call the group who kidnapped and murdered three Israelis in 2014 terrorists. Last year she equated the 1938 Kristallnacht pogrom against Jews with Israel's treatment of the Palestinians. More recently, she found herself under the spotlight once again when she and three other Joint List MKs visited the families of terrorists.