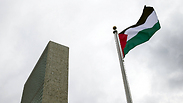 Palestinian Flag
Photo: Reuters
The Palestinians demanded an apology on Saturday from the organizers of Eurovision, who are already under fierce criticism after a document leaked forbidding certain flags, such as the Basque and Palestinian ones.

In a letter addressed to Jean-Paul Philippot, the president of the European Broadcasting Union (EBU) and obtained by AFP, Saeb Erekat, the number two of the Palestine Liberation Organization (PLO), denounced a "shameful, totally biased and unacceptable decision" and demanded "its immediate cancellation."

Erakat also called on the EBU "to apologize to Palestine and the millions of Palestinians across the world." He added that the song competition will be held this year in Sweden, the first western country in the European Union to have recognized the state of Palestine.

On Friday already, the organizers had to apologize after the prohibition of the Basque flag caused uproar in Spain. They assured that the document, which also mentioned the flags of Kosovo and Crimea among others, should not have been distributed and that it was just a draft of rules regarding flags.




"The flag policy is not targeting any territory or organization," a spokesman for the organizers explained.

Only the flags of member states of the United Nations are authorized—Palestine holds there the status of an observer state—, along with the rainbow pride flag and that of the European Union. Regional flags or those of federal states, along with those containing commercial or religious messages, are not permitted.

The document with concrete examples that provoked the polemic has since been removed.