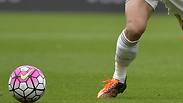 The Palestinian Football Association on Saturday denounced the Asian Football Confederation's (AFC) decision to declare as losers a Palestinian team who had several players unable to enter Lebanon for a soccer game in the AFC Cup.

The match was supposed to take place on March 9 between the Palestinian soccer team Shabab Al-Thahriyeh from near Hebron and the Syrian team Al-Wahda. Because of the ongoing war in Syria and restrictions imposed on Syrians who want to travel to the Palestinian territories, the game was organized in Lebanon.

On March 5, the Shabab Al-Thahriyeh delegation arrived at the Beirut airport, but more than half the players were sent to Jordan because of their Israeli passports.

Israel and Lebanon remain technically in a state of war, and Beirut forbids entry to its territory by the bearers of Israeli identity papers and bars its residents from travelling to Israel.

On Friday, the AFC's disciplinary committee ruled that "The club from Thahriyeh was responsible for the match's cancellation." It held as a result that the Palestinian team lost the game 3–0 and imposed a fine of $20,000.

The Palestinian Football Association protested the AFC's decision, "as the Lebanese authorities expelled nine players from the Beirut airport without providing an explanation."

The association confirmed that it will "start a legal battle" to support the Palestinian team, mentioning a possible appeal.