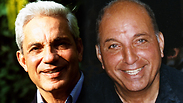 Brothers Simon and David Reuben
Courtesy Reuben Brothers
David and Simon Reuben, two Indian-born Jewish brothers, have topped the Sunday Times' annual list of Britain's richest people.
The two real estate moguls own the Millbank Tower in London, the London Oxford Airport and the London Heliport, which operates as the city's helicopter airport.
Their joint fortune is estimated at £13.1 billion, marking a £3.4 billion increase from the previous year.
Simon began his career as a rug importer, while his brother David made his start in the metal trade market. Later on, they moved their focus to real estate.
The second place on the list also belongs to two brothers, businessmen Sri and Gopi Hinduja, with an estimated fortune of £13 billion.
Leonard Blavatnik, an Odessa-born Jewish businessman who owns Warner Music Group and the Israeli holding company Clal Group, landed in third place with £11.59 billion, after earning the top spot in 2015.
Anglo-Canadian businessman Galen Weston and his family, who own the retailing company George Weston, earned fourth place with £11 billion.
Several of Britain's most affluent people have seen their wealth diminish over the past year, among them Indian steel magnate Lakshmi Mittal. After earning the top spot in 2008 with £27.7 billion, this year the businessman and owner of the multinational corporation ArcelorMittal found himself in 11th place with £7.12 billion.
Other wealthy Britons to have suffered a financial loss this year are Russian-born businessman Roman Abramovich, who made the 13th spot with £6.4 billion, as well as colorful businessman and owner of Virgin Airlines Richard Branson, whose £4.52 billion landed him in 19th place.
Out of the lucky 1,000 to make the cut, 125 are women. The list includes 120 billionaires in total, with 77 of them living in London.
Britain's wealthiest sportsman is Formula One racing driver and current world champion Lewis Hamilton, with an estimated fortune of £106 million that earned him in the 931st spot.
Jewish actor and comedian Sacha Baron Cohen and his wife, actress Isla Fisher, also made the list with £105 million, as did Sir Paul McCartney, who with £760 million is Britain's richest musician.
While not quite making the cut, singer-songwriter Adele is estimated to have earned £85 million, making her Britain's richest female musician to date.
And what of the Israelis? According to the Times, businessman Idan Ofer lands in 40th place with £2.73 billion, which marks a £420 million decrease from last year, when he was ranked 28th.
With £2.46 billion, Teddy Sagi saw a £60 million loss, placing him in the 44th spot after reaching the 29th spot in 2015.
With £775 million, Israeli businessman Lev Leviev ranked 143rd, slightly better than the 144th place he had reached in 2015.