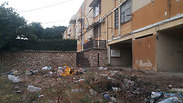 Holocaust survivor's home
Third of Holocaust survivors in Israel live below the poverty line
Various reforms in recent years have led to a significant improvement in the life of Holocaust survivors, but 60,000 of them still can't afford food, medical care or heating; 'It is shameful what they give us,' says 85-years-old Shmuel Shteiner.
Lea Karsik, a Holocaust survivor who escaped the horrors of war with her mother, hasn't got enough money to buy meat. Shmuel Shteiner, whose father was murdered in Auschwitz, said that last winter he slept wearing two coats to keep warm in the cold because he didn't have enough money for heating. He suffers serious vision impairment and is worried that he will not be able to afford new glasses either.

"It's a disgrace that the state took money for Holocaust survivors, but didn't give it to us," he told Ynet.

For many Holocaust survivors, this is the reality they deal with. Despite a significant, and even historic, improvement in their socio-economic situation brought about by government reforms, many of them continue to live in poverty.

There are 200,901 Holocaust survivors living in Israel. Data from the Welfare Ministry and the Finance Ministry's Authority for Holocaust Survivors' Rights shows that almost a third of them, some 60,000 people, are living under the poverty line while some 65,000, receive income support benefits.

Holocaust survivors' situation is not unlike to that of many senior citizens in Israel. Indeed, the poverty rate among the elderly rose by one percent in 2014, reaching 23.1 percent. Similarly, despite the increase in old-age benefits and the income support provided to the poor elderly - which amounts to hundreds of shekels per month - the rate of poverty among them remains among the highest in the Western world.

"The government needs to look Holocaust survivors in the eye. What they're giving us is not enough. We need more help," said Lea Karsik, an 83-year-old childless survivor who lives alone in a small two-room apartment in Ashkelon.

She was a young child when Nazi forces came to Ukraine, forcing her family to flee. "We dealt with hardships. Dad fought, and we ran away with mom when there were bombings, even on a train full of people. Mom was wounded, and we hid. For a long time we didn't have food at all. In a situation like that, your body goes mad," she recounted.

Lea says that while she has food, her monthly salary of a mere NIS 3,000 does not enable her to pay for other basic commodities."I don't buy fish or beef, it's too expensive," she said.

She lives on the third floor of a building without an elevator, in a public housing apartment, and moves around using a cane. Despite her condition, she has been volunteering for many years in aiding other Holocaust survivors. "I translate for other elderly people who don't speak Hebrew, and try to help them," she said.

Karsik asked that she is approved more nursing care hours because of her deteriorating health and difficulty climbing up the stairs and leaving her home.
Reforms for the survivors
About two years ago, the government approved a national plan to aid Holocaust survivors, led by then welfare and finance ministers Meir Cohen and Yair Lapid. The plan included significant changes to the two main laws dealing with Holocaust survivors: The Victims of Nazi Persecution Act and the Holocaust Survivors' Benefits Act. Among other things, the 18,000 survivors who made aliyah after 1953 were granted the same rights as the survivors who made aliyah before that time. In addition, survivors were ensured free medicine and an annual grant of NIS 3,600 was allocated to survivors of the second circle (refugees who fled as a result of the Holocaust but were not in the extermination camps or ghettos).
Since the institution of that plan, several other measures were taken, including increasing the old-age benefits by hundreds of shekels every month for poor seniors. Approximately three months ago, the Finance Ministry, led by Minister Moshe Kahlon, recognized Holocaust survivors from Morocco, Algeria and Iraq, as well as survivors from Romania who endured hard labor during World War II. This recognition means these survivors will now be entitled to free medical treatment and annual grants as well.
Last month, Welfare Minister Haim Katz announced a plan to "give back" money to some 20,000 survivors that he says did not exercise their full rights, losing out on over NIS 100 million in benefits.
Earlier this week, Finance Minister Kahlon announced a NIS 500 million plan to increase old-age and income support benefits to poor seniors, including Holocaust survivors. The Finance Ministry said the plan will be part of the next state budget.
However, these plans all failed to right some historical wrongs, including giving some 90,000 survivors of the second circle the same benefits as other survivors, or improving government bureaucracy that puts many different bodies in charge of Holocaust survivors.
26,000 survivors turn to aid center
Despite a significant improvement reported, data from the Social Equality Ministry obtained by Ynet indicate the bureaucracy with which the survivors still have to deal.
Out of 100,000 elderly people who called the *8840 aid call center to receive assitance, 26,000 were Holocaust survivors.
"The data indicates that the center serves a major need for Holocaust survivors, and makes it easier for them to deal with bureaucratic and financial issues and exercise their rights," said Social Equality Minister Gila Gamliel.
Despite these improvements, the fact remains that 90,000 Holocaust survivors, many of whom suffer dire economic hardships, receive neither monthly stipends nor pensions.
The vast majority of the survivors are immigrants from the former Soviet Union who receive meager annual grants of NIS 3,600. They also include elderly people, without acceess to pension or other rights, who immigrated to Israel in the 90s. Others include immigrants from Romania, Bulgaria, Libya and Tunisia who came after 1953 along with immigrants from Morocco, Iraq and Algeria.
Shmuel Shteiner, 85, who was born in Romania and now lives in Netanya, receives a sum total of NIS 4,000 per month. "It is shameful that this is what they give," he said. Shteiner moved to Israel in the 70s and worked for many years as a photographer but did not accumulate pension rights. "This is the money that there is today. I am trying to get by with but it isn't enough," he continued.
International Fellowship of Christians and Jews (IFCJ) President Rabbi Yechiel Eckstein said that "tens of thousands of Holocaust survivors live without the means to support themselves with the most basic necessities such as food, dental treatment, heating in the winter and adequate roofing. Most of them are too exhausted or too sick to make themselves heard. Most of them live in terrible solitude far from the public eye, they cope alone with difficult memories, with loss and, most fundamentally, with the terrible feeling that nobody cares about them," Eckstein said.
"The time has come to place the treatment of Holocaust survivors at the top of the agenda. When each day 40 of them pass away, we don't have any more time to wait," he continued. "We are obligated to to act here and now and therefore we invite the public to donate so that there will be no more deprived Holocaust survivors in Israel."
Each year the IFCJ assists 20,000 Holocaust survivors who lack food, panic buttons, urgent medical services and dental treatment and who suffer the burden of loneliness.
Deputy Finance Minister Itzik Cohen insisted that his ministry places Holocaust survivors at the top of the agenda: "The ministry allocates vast resources in order to assist Holocaust survivors and to expand their rights. The allocated budget for 200,000 survivors stands at NIS 4.2 billion. We are continuing to initiate and to advance additional programs," he said.
Donations can be made by calling *6748 (inside Israel) or via the fund's website .