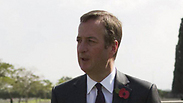 David Quarrey
Photo: Reuters
Today is my first Holocaust Remembrance Day in Israel. It will be a profoundly moving experience. As for many people my age, learning about the Holocaust was one of the defining moments of my education. I can remember the silence in the classroom when we first attempted to understand the enormity of what had happened to the Jews of Europe.

Do young people in the UK have the same experience today? I believe so. I was inspired when I met a group of young ambassadors from the Holocaust Education Trust last year. Mostly non-Jews, these young people had come to Israel to understand the unique crime of the Holocaust, so that they could act on their commitment to keep the memory alive by educating their peers.

I was with Prime Minister David Cameron when he visited Israel in 2014 and held a meeting of the Holocaust Commission at Yad Vashem. Since then, plans have been finalized for a new £50 million Holocaust memorial and education centre near the UK Parliament, with another £10 million committed since 2010 to remembrance and education. Holocaust education in the UK is compulsory for 11-14 year olds.

But as a British citizen as well as British Ambassador to Israel, it is troubling that Holocaust Remembrance Day this year comes against a backdrop of increased media focus in Israel on concerns about anti-Semitism in the UK.

I do not believe that anti-Semitism is widespread in the UK. International surveys have shown that levels are lower than in most Western countries. But it does exist, and it needs to be addressed. 2014 saw a spike in the number of anti-Semitic incidents; that number fell 22 percent in 2015, but nonetheless was still too high.

Although the challenge of addressing anti-Semitism is one for society as a whole, the Government and Parliament are an important part of this fight. In March 2016, Home Secretary Theresa May pledged £13.4 million for Jewish community security. The Home Affairs Committee of the House of Commons will conduct a new inquiry into anti-Semitism. Labour leader, Jeremy Corbyn, has launched an inquiry into anti-Semitism in his party, chaired by human rights lawyer Shami Chakrabarti. UK community engagement is seen internationally as a model of its kind, bringing together government, community groups and the police to ensure that anti-Semitism is identified and acted upon.

Britain, like any European country, cannot be complacent about anti-Semitism. But it is important to remember that contemporary Britain has a Jewish community of nearly 300,000 who are proud to be both British and Jewish, and who are an integral part of British society, thriving, and often leading, in all walks of life.

It is crucial that we reaffirm that while differences over policy are a natural, healthy part of the connection between robust liberal democracies, anti-Semitism or delegitimization of Israel is something completely different and unacceptable.

Holocaust Remembrance Day is a time to commemorate those who perished, and to support and pay tribute to those who survived. It must also be a time to recommit to eternal vigilance against the insidious threat of anti-Semitism, and, indeed, of all forms of religious, ethnic and racial discrimination, and make sure such atrocities never happen again.

David Quarrey is Britain's Ambassador to Israel.