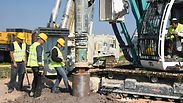 Afek oil well, Kibbutz Natur
Afek Energy has been ordered to cease exploratory drilling for oil in the Golan Heightsby the Ministry of National Infrastructures, Energy and Water Resources, despite ministry inspectors giving Afek a six week extension to explore at the Nes 2 site.

Ilan Nissim, head of the inspection team, wrote to Afek Energy on Tuesday saying that "the extension enabled Afek Energy to drill exploratory wells for a month and a half as opposed to a month, and this presents a change in the provisions of your application…you are requested to stop exploratory drilling as soon as possible."

It should be noted that this isn't a call for an immediate halt to all work, but is a call to make another official request for exploratory drilling.


The Ministry of National Infrastructures explained that the change in legal position comes from the fact that "the legal advisor for the Northern District Committee instructed the inspectors who are in charge of following the exploratory drilling in the Golan Heights to tell Afek Energy to stop their drilling as soon as possible. Afek Energy notified the chief inspector that it was planning on stopping exploratory drilling by Saturday in any case."

The Society for the Protection of Nature sent a letter to the ministry which said that the follow up committee had no right to extend the exploratory drilling and therefore must backtrack on the decision. The Society claims that by extending the time allotted for exploratory drilling, the potential for damage to the environment and groundwater significantly increased.

"The request (for extension) is the exclusive authority of the Oil council" they wrote in a letter.

Afek Energy responded by saying "the crew from the follow up committee, including the Ministry of National Infrastructures, the Ministry of Environmental Protection, and others, approved the extension of exploratory drilling at Nes 2 by six weeks following extensive observations. They determined that extending the time allotted for exploratory drilling would not negatively impact the environment. This message was also sent to the Northern District Committee."

The letter continued, saying "the company abided by the conditions stipulated in the agreement, and is currently in the midst of projects on the ground which were started within the legally approved period. In light of this, the stop order comes as a surprise, especially since the follow up committee authorized the drilling extension three weeks ago."