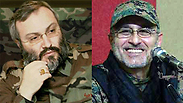 The mega terrorist who never gave up on the good life
Mustafa Badreddine, Imad Mughniyeh's successor as the head of Hezbollah's military wing, used aliases and numerous different phones to lead a flashy lifestyle away from the watchful eye of his enemies. Last week, he was assassinated on the outskirts of Damascus.
On the night between February 13-14, 2005, the top commanders of Hebollah's al-Jabbar Unit—a covert operations unit within the organization that specializes in assassinations and sabotage inside Lebanon—convened inside a cluster of buildings used as Hezbollah headquarters, in a secluded and guarded area of Beirut's Dahieh suburb.
The unit is ultra-compartmentalized. While there might be a consensus on attacks against Israel in Lebanon, but the internal assassinations it carries out—certainly of Druze, Christians and Sunnis—are obviously not as well accept, and could raise a lot of anger at the organization if they were to be found out. At the time, al-Jabbar had executed several such operations.
That night, though, its commanders were hard at work on the final preparations for their most important operations—the assassination of former Lebanese Prime Minister and the Arab world's most important politician, Rafik al-Hariri, who Iran, Syria and Hezbollah all considered a dangerous adversary.
The unit's name is a testament to unit founder Imad Mughniyeh's sense of humor, as "Jabbar" was the name of the candy factory where his father had worked.
Mughniyeh had put Mustafa Badreddine—who was his deputy—in charge of the operation. Both men were at the time very high up on Israel's list of assassination targets and both were present that night, together with other high-ranking members, among them Hassan Habib Merhi, who has also been awarded a special place on Israel's Most Wanted list, after spearheading the July 2006 kidnapping of Israeli soldiers that led to the Second Lebanon War.
During that year, Badreddine was using 13 different phones, some for operational purposes and some for personal ones. At about 2am, a text message was sent to one of these, 3966663, by one of Badreddine's girlfriends, complaining that he doesn't devote enough time to her, and that she suspects he's with someone else. He replied teasingly at 2:31am: "If you knew where I have been you would be very upset."
It's hard to tell whether Badreddine was telling her that she was right to be suspicious, and that he was really with another woman, or that he was doing something far worse, believing he knew what she, as a Sunni Muslim, would have thought had she known the truth. Either way, the text message in itself shows that even amid the intense pressure of finalizing preparations for one of his biggest missions, one that he must have believed would change Lebanon forever, Badreddine found time to kid around with one of his girlfriends.
The following day, at 11:58am, Badreddine held several conversations with different commanders, one of whom is positioned close to the St. Georges Hotel in Beirut. The conversation lasted 14 seconds. A short time later, Badreddine made several calls to Imad Mughniyeh to get his final approval on going forward with the mission. A short time after that, a suicide bomber driving a van loaded with explosives equal in damage power to three tons of TNT collided with Hariri's armored convoy, turning it into a fiery hell.
Hariri was one of the best-guarded people in the world, with his security protocol formulated by experts from Germany and the United States. Badreddine's success in killing Hariri (together with 21 other people) had once again proven that apart from Mughniyeh, he was the best operative in the organization.
For 25 years, Mughniyeh had relied on Badreddine more than on anyone else. Mughniyeh was his cousin and brother-in-law, married to Badreddine's sister. Born in April 1961, Badreddine was 42 when preparing the Hariri hit, with his name only appearing on very few official Lebanese documents. From the little that investigators were able to piece together, he had two wives and six children. For much of the time since Hezbollah's founding, he was the number two man its military wing. Like Mughniyeh, he figured prominently on lists of the world's most wanted terrorists.
The United States also had a score to settle with Badreddine. In 1983, Mughniyeh sent him as the head of a terror cell to carry out a number of terror attacks in Kuwait against American and local targets. On December 12 1983, the cell tried to blow up the American embassy in Kuwait, with partial success. The cell was captured and most of its members, including Mughniyeh's beloved brother-in-law, were sentenced to death. During this period, Mughniyeh himself was conducting a campaign of kidnapping foreigners in Lebanon. Badreddine's death sentence (later commuted to life in prison) made this a very personal matter for Mughniyeh, who gave orders to kidnap more and more foreigners, most of them Americans and British, to be served as hostages who could be exchanged for his relative. On June 14 1985, with Mughniyeh heading its planning and initiative, TWA Flight 847 from Athens to Rome was hijacked. Mustafa's brother, Hassan, was among the hijackers who murdered one of the passengers when they discovered he was an American Navy frogman.
In August 1990, Saddam Hussein invaded Kuwait. Mustafa Badreddine took advantage of the chaos that followed the Iraqi invasion and managed to escape from prison and find refuge in the Iranian embassy located in Kuwait City. Members of the Revolutionary Guards transferred him to Tehran and then back to Beirut, where he was reunited with Mughniyeh.
Mughniyeh took part in the negotiations conducted with international mediators, and indirectly with Israel, regarding the hostages' release. The United Nations' head negotiator was Giandomenico Picco, who told me about their meetings: "After being thoroughly searched, they would blindfold me and drive at an insane speed through Beirut. We would change cars several times, and I believe that the guards were changed, as well. Eventually, I would find myself in an apartment, each time a different one, with one or two men in ski masks in front of me. The one who spoke called himself Abdullah. Israeli Intelligence later told me that these were Imad Mughniyeh and Mustafa Badreddine."
Mughniyeh and Badreddine were always the first to leave the meeting. The guards pinned Picco to his chair until "Abdullah" and his assistant would be far enough away. After reaching the hallway, with his back to the room, Abdullah/Mughniyeh would usually take off his ski mask in one motion and wave goodbye to Picco.
Mughniyeh, Badreddine and other operatives then began to systematically build Hezbollah's covert apparatus for operations both inside and outside of Lebanon. At the beginning it was called Jihaz al-Mubakhathat al Khasa, or the "special research apparatus." It was later renamed Unit 910. The unit consists of some 200-400 of the best and toughest fighters produced by the militia, who were all trained in Iran.
Most of Badreddine's responsibility from that time until he was killed last week, focused on Hezbollah's operations outside of Lebanon, and more specifically on helping local Jihadist elements. For example, he was the commander of Unit 1800, which abetted acts of terror against Israel coming out of, and operating within, the West Bank and Gaza. He also coordinated the activities of Unit 2800, which was responsible for promoting terror attacks against Sunni forces in Iraq, as well as against the American and British troops stationed there.
Brig. Gen. Dr. Shimon Shapira, formerly a senior intelligence officer and military secretary to the prime minister, said that Badreddine "lived in Mughniyeh's shadow. The two were exposed during the kidnapping operations in the 1980s, but after that they went deep underground. Nothing about them came out. Everything was covert and clandestine. Mughniyeh feared that their shared family would serve as a means of exerting pressure on them, so he made them simply vanish, until his funeral in 2008."
After Mughniyeh's assassination by the Mossad and the CIA in 2008, Badreddine took over most of his duties.
Badreddine was the top commander of Hezbollah forces in Syria whose job was to help President Bashar Assad survive. In January 2015, Bareddine was supposed to travel with the convoy that included Jihad Mughniyeh (Imad's son), as well as an Iranian Revolutionary Guards general, which was touring the Israel-Syria border as part of their plan to open a second front against Israel. The Israeli Air Force managed to hit this convoy. Badreddine had decided at the last minute not to join them, and so his life was saved. He was granted another year and a half of activity.
Throughout the years, Badreddine had been a man of many faces. Since the year 2000, there has been no mention of his name in any registry or record in Lebanon, there are no bank accounts, social security or internal revenue documentation and no property in his name.
Evidence submitted to the Special Tribunal for Lebanon (STL) in the Hague, which deals with the Hariri Murder, shows that along with his important position in Hezbollah, Badreddine—unlike other operational personnel—made sure to live life to the fullest, including studying at the American University of Beirut, dining at expensive restaurants, running a jewelry store and having many friends and pleasures that he was unwilling to give up, not even for Hezbollah.
Lame in his right leg (a memento of an old injury), sporting sunglasses and a baseball cap, equipped with a gleaming Mercedes and personal bodyguards, he roamed the length and breadth of Lebanon. Sources in three different spy agencies—who devoted a great deal of time to tracking him—all spoke first of his whims, his aggressive nature and, no less importantly, his weakness for women who are not his wife.
In a lengthy investigative piece published last January in the New York Times, we uncovered confidential information dealing with Hariri's death from the STL, which reveals that Badreddine lived his other, exposed and flashy, lifestyle as a completely different person, named Sami Issa.
Badreddine as Issa possessed and used a number of mobile phones and landlines, with some of the people he called, including his mistresses, knowing him only by his alias. He used that name on some of the text messages he sent, in addition to "Sami Samino" or just "Samino," which is also the name of the jewelry store he ran under his Sami Issa identity.
There is, however, no one in Lebanese records and documentation by that name, nor is there any property or even cell phones registered under this name. Yet the private phones belonging to Sami Issa made innumerable calls to Badreddine's family. One of these numbers was found to have called his sister, Sa'ada, no fewer than 2,056 times.
On April 6, 2005, Sami Issa received multiple messages of congratulations on his birthday, which funnily enough is also Mustafa Badreddine's birthday. Sami Issa's phones were used to call and receive calls from Saudi Arabia on precisely the same days that Badreddine's wife Fatma and their son were there. One of the phones even traveled to the airport on the day they left Lebanon and on the day they returned.
Badreddine actually used his own name when he enrolled at the American University, but it was one of Sami Issa's phones that was located there at times that coincide with Badreddine's classes.
Two of the personal phones Issa used travelled all over Lebanon in absolute synchronicity with the phone whose number is 3140023, which belonged to the supreme commander of the Hariri assassination operation. The personal phones were also used to make multiple calls to Hezbollah numbers.
The clash between personal and professional life, especially when it comes to one of the world's most wanted terrorists, sometimes creates amusing situations. UN investigators checking into Badreddine's many phones came across something odd: for half a year, from June 29, 2007 until January 9, 2008, the tone of speech on one of the numbers used by Sami Issa suddenly changed. No more crude and explicitly sexual messages, but rather much gentler content, signing off with the name Zaza, or just Z. Only after an intensive investigation was it discovered that the phone was being used by Badreddine's daughter Zahraa. She had lost her mobile phone and the ghostly Sami Issa let her use one of his.
Badreddine's death is a great loss to Hezbollah and is part of a series of assassinations and failures that have plagued the organization since 2007, which all point to a disadvantage in its intelligence capabilities compared to that of its adversary, which Hezbollah is certain is Israel. Among these failure is a series of mysterious explosions in illegal arms depots belonging to the organization in Southern Lebanon, Imad Mughniyeh's assassination and the failure of almost all 27 attempts to hit Israeli targets in response to his death, the assassination of Hezbollah's Research and Development Commander Hassan Hawlo al-Laqqis, uncovering a top Israeli operative inside Unit 910, and the missile-based assassinations of Jihad Mughniyeh.