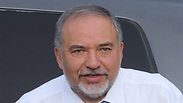 Yisrael Beytenu leader Avigdor Lieberman
Photo: Gil Yohanan
Yisrael Beytenu leader Avigdor Lieberman has noted several significant achievements in his talks to join the government, particularly in defense and immigration, but his party will still have to compromise on quite a few other issues that it has thus far defined as "principal."

Because of the makeup of the coalition—which includes religious parties Bayit Yehudi, Shas and United Torah Judaism—Lieberman will have to make concessions on issues of religion and state that would no doubt rile up the ultra-Orthodox parties.

This means that once again, Lieberman will not be able to promote new legislation on Jewish conversions and civil unions. He will also not be able to push legislation on the drafting of ultra-Orthodox men to the IDF or on canceling marriage registration districts (allowing couples to register for marriage wherever they choose, which will make the process easier).




In return for these concessions, however, Prime Minister Benjamin Netanyahu has agreed to throw the coalition's support because Lieberman's proposal to impose death sentence on convicted terrorists. The controversial bill has gone up to a vote in the current term and failed due to objection from the coalition.

According to the legislation, capital punishment will only apply to Palestinians and could only be given by military courts. Jewish and Arab citizens of Israel—even if they reside in the West Bank—will be tried at civilian courts and the death penalty will therefore not apply to them.

Lieberman is also seeking to make it easier on military courts to sentence convicted terrorists to death - by changing the military court's orders to allow a majority of just two, rather than three, judges to dole out the death sentence.

In addition, the defense minister will have the authority to implement a policy of capital punishment to terrorists.

However, the legislation might still face obstacles as Attorney General Avichai Mandelblit, like his predecessors, is expected to object to the bill.

Less than a year ago, Mandelblit's predecessor Yehuda Weinstein determined such legislation does not lead to the desired deterrence, as terrorists are already willing to sacrifice their life while carrying out the attack.




Officials in the justice system pointed to other issues the legislation could face. Firstly, it goes out against international trend to cancel capital punishment, which could lead to harsh international criticism. "Two thirds of the world's states, including in the European Union, have eliminated the death penalty," former AG Weinstein wrote in his legal opinion last year.

Secondly, there is concern of committing an "irreversible error": in the past, people were executed only to be found innocent later.

Finally, the legislation can also encounter constitutional obstacles, as it contradicts Basic Law: Human Dignity and Liberty. Israeli law includes a small amount of offenses that could lead to the death sentence, including the Nazis and Nazi Collaborators Punishment Law, treason, and offenses in military law. But most of these are leftovers from the British Mandate period and the 1992 Basic Law: Human Dignity and Liberty essentially "cancels" such legislation.

Likud officials clarified on Thursday night, however, that "this isn't an issue that could thwart the agreement between the two sides."

In addition, Netanyahu worked on Thursday to quell the objections to Lieberman's appointment as defense minister, saying in private conversations that he would be a "pragmatic and moderate" defense minister, and that the Yisrael Beytenu leader supports regional diplomatic moves.

As part of its coalition deal, Yisrael Beytenu will also receive the chairmanship of one of the Knesset's committees, an MK serving as the deputy Knesset Speaker, a representative in the ministerial committee on legislation, the establishment of a cabinet on immigration, and representation in the socio-economic cabinet.

In addition, Lieberman received assurances from the prime minister that the work on the pension reform for new immigrants will continue and be completed.

While Lieberman himself will be appointed defense minister, the Immigration Absorption Ministry will be given to his close ally Sofa Landver, who has served in the position before.

The signing of the coalition deal with Yisrael Beytenu will lead to a cabinet shuffle. After giving the defense and immigration portfolios to Lieberman, the prime minister will have to find an alternative job for outgoing Immigration Minister Ze'ev Elkin. Outgoing Defense Minister Moshe Ya'alon has quit the Knesset and announced he was taking a hiatus from political life, which means Netanyahu will no longer have to find an alternative for him.

Netanyahu still holds several portfolios: the Foreign Ministry, the Economy Ministry, the Communications Ministry and the Regional Cooperation Ministry.

One of the options the prime minister is examining is offering Elkin a limited Economy Ministry including just industry and trade, after Welfare Minister Haim Katz demanded to return authority over labor to his own ministry. However, it is also likely Netanyahu will find an entirely different role for Elkin.

Tova Tzimuki, Itamar Eichner, Yuval Karni, Goel Beno and Eitan Glickman contributed to this story.