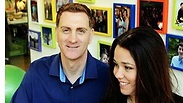 Houzz's creators
From Houzz's site
Israeli-made Houzz won "Best App" in the first-ever Google Play awards. Houzz, created by Adi Tatarko and Alon Cohen, is an app for the popular home-design website, and surpassed competing applications, including TuneIn Radio, Colorfy, BuzzFeed News, and Yummly.

According to Google Play's data, Houzz has been downloaded by more than 10 million Android users and has been marked 4.6 out of 5 by more than 250,000 users. Houzz has a number of branches across the world, including in Tel Aviv.

Houzz app

Houzz's website is one of the online leaders in tracking design trends and solutions. Its application is extremely popular and expansive, and includes millions of pictures categorized by room type, location and style. One can save favorite pictures in a personal library, consult with other users, share choices with friends, and get inspiration from some of the best interior decorators in the world for one's home design.

Calcalist, Ynet's sister publication, previously wrote that Houzz is one of the largest surprises to come from Israeli internet entrepreneurs. Its success can be compared to Viber, Wave, and ICQ, other Israeli-made applications that have enjoyed phenomenal international success.