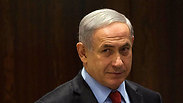 Prime Minister Netanyahu
Photo: Reuters
Prime Minister Benjamin Netanyahu, who everyone was certain was a "pure" Ashkenazi, revealed Tuesday that part of his family tree hails from Spain.
Netanyahu divulged the surprising discovery at the opening event of the new wing at the Beit Hatfutsot - The Diaspora Museum in Tel Aviv. During the event, Irina Nevzlin, the chair of the museum's board of directors and Knesset Speaker Yuli Edelstein's partner, gave Netanyahu a copy of his family tree.
The prime minister said in his speech that he hastily checked the family tree - and that it has to be corrected.
He explained this by saying, "my brother, Ido, is a writer and physician. People who write family trees based on DNA tests approached him. Their thesis was that Lithuanian Jews, and we are from a Lithuanian family who were descendants of the Vilna Gaon, have Spanish roots."
Indeed, Ido Netanyahu had his saliva tested, and the test revealed that part of Netanyahu's family are of Sephardic ancestry.
"Of course they belatedly informed me of this, as chairman of the Likud party for 30 years, but it shows that all Jews are intertwined and I think that's one of the great lessons one learns when visiting this institution. One sees the family that is Israel," Netanyahu concluded.