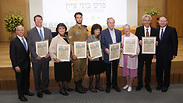 Nefesh B'Nefesh honored on Wednesday six recipients of the 2016 Sylvan Adams Nefesh B'Nefesh Bonei Zion Prize during a Knesset ceremony in Jerusalem in the presence of ministers, MKs and other dignitaries.

The award recognizes Olim (immigrants) from English-speaking countries who have made a major impact on the State of Israel.

Nefesh B'Nefesh Co-Founder and Executive Director Rabbi Yehoshua Fass. "These 2016 recipients are yet another example of the magnitude in which Anglo Olim are ingrained within Israeli society and we are delighted to be able to showcase their achievements within their respective fields. Nefesh B'Nefesh is blessed to be among the constellation of worthy organizations to benefit from the Sylvan Adams imprint as the Bonei Zion Prize has become one of his philanthropic initiatives to showcase the dynamic and vibrant State of Israel."

A truly inspirational group of honorees included:
Science and Medicine: Professor Howard (Chaim) Cedar
Arts, Culture & Sports: Estelle Friedman
Education:Barbara Levin
Community and Non-Profit:Dr. Rachel Levmore
Entrepreneurship and Technology: Scott R. Tobin
IDF and National Service Young Leadership Award: IDF Staff Sgt. (res.) Sahar Elbaz
In addition, Moshe Arens, renowned former Israeli politician and aeronautical engineer, received a Lifetime Achievement Award for his contribution to shaping and impacting Israel through diplomacy and dedicated Hasbarah efforts on behalf of the State of Israel.
"35,000 young men and women from around the world came to Israel in 1948 to help fight in the War of Independence, and the Olim that come today follow in their footsteps, coming to defend Israel but to also build it and build themselves at the same time," said Arens. "It is such a privilege to thank Nefesh B'Nefesh for honoring myself and the other recipients, as they are responsible for probably the most important mission in the State of Israel today — Aliyah."