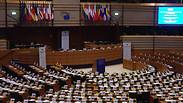 European Parliament
Photo: Michael Zeff/TPS
Martina Anderson, an Irish member of the European Parliament, said Israeli lobbyists were "all over this place like a rash" during a parliament meeting on Wednesday.
Anderson was moderating a discussion dedicated to health issues and sanitation in Gaza and the West Bank when she compared the lobbying efforts of Israeli and Jewish groups to the efforts by Palestinian groups.
"We know that the Palestinians do not have the same capacity or personnel as the Israelis do," said Anderson. "The Israelis are all over this place like a rash – they are lobbying to no end."
"Over a billion Muslims, 22 Arab states and one great Arab nation, which the Palestinians see themselves as part of, will surely disagree with the MEP for doubting their power and political capabilities," Amir Ohana, a member of Knesset with the Likud party told Tazpit Press Service (TPS).
"As for the 'rash' part, I can only express my impression with the creative associations that these new anti-Semites have," added Ohana.
Anderson is a representative of Northern Ireland in the European Parliament for the Sinn Féin party, known for its anti-Israeli and pro-BDS stances.
The event was organized by the European parliamentary group GUE/NGL, representing several of the Europe's far-left wing and Green parties such as Anderson's own Sinn Féin.
Martina Anderson is a former convicted terrorist with the IRA, dubbed the "beauty queen bomber." She served part of a life sentence after being convicted in taking part in a bombing of a hotel in Brighton, England in 1984 and planning mass bombing attacks on 12 English resort towns.
"She loves hiding behind slogans such as Human Rights protection, welfare and justice. However in her entire tenure as a member of European Parliament she has dealt with no issue and focused on no other goal than to attack Israel," Gilad Segal, a former diplomat with the Israeli Embassy in Brussels told TPS.
"As a convicted terrorist who still has ties and relations that go beyond the PLO to Hamas nowadays, she is in no position to preach," added Segal.
"If Israelis managed to anger someone like her, then we're doing a good job," an official with the Israeli foreign ministry told TPS. At this time however, the ministry has not decided whether or not this outburst warrants an official response.
Reprinted with permission from TPS .