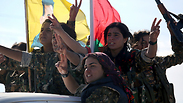 Women's empowerment need to come, first and foremost, from within.
Photo: Getty Images
Things look grim. Figures published by the Taub Center, an Israeli socioeconomic research institute, show an incomprehensible gap between men's and women's wages. If you were lucky enough to be born a man, specifically if you're a secular man in 2016 Israel, you will make NIS 77 an hour. If you're a secular woman, you'll make just NIS 59 an hour. An 18 shekel gap. In the religious sector, the gap stands on 20 shekels, and among traditional Israelis it's 12 shekels.

Is this due to Israeli men being better educated or better professionally trained? On the contrary. In all sectors, women are generally better educated than men and their rate of graduation from college with bachelor's degrees is higher. Since women tend to also work part-time, the income gap is even greater than simple hourly wages would indicate.

How is such discrimination possible? Gender studies specialists may speak of social patterns that remain unchanged, poor education, and institutional discrimination. Those are possible influencing factors. But I want to speak of women – or more accurately, to women – and give them their power back.

A few weeks ago I was invited to host a workshop at an important research center, one that was meant to encourage the center's female researchers to be more vocal in the media. The center's management noticed that male researchers tend to give interviews and publish op-eds, but the female researchers hardly do. When I asked these women what prevents them from speaking up, I heard a deep fear of being seen as superficial. They were hesitant to speak about something they hadn't researched fully. They also were concerned about their inability to find the time to write a complete article. These women were keeping their silence due to their tendency for thoroughness.

Newspapers also search for women who'll be able to write op-eds and, even slightly, counterbalance the male majority. Even so, everyone who follows the matter knows women write fewer opinion pieces than men. Why is that? Because men can speak confidently on subjects they know nothing about, while women won't write about anything that's outside the realm of their expertise. They may discuss these topics in private conversations, but not on the newspaper page.

The same pattern of all-male attendance is seen in the case of current events shows. Doubly so if the current events are security-related. This isn't because the producers of these shows are chauvinist. It's because women refuse to go on these shows, and so we end up with one female voice on the panel if we're lucky – and if she gets to speak without being devoured by the men beside her, that's great. Unusual, and great.

Is being a fig leaf part of Eve's curse for tempting Adam in the Garden of Eden? I don't believe that. I believe in the power of women to change the curse. I believe in women's ability to conquer fear, overcome the need to be overly thorough, and raise their voices – proudly – in public. I believe in women's ability to demand higher wages. I believe in women doing all of this not while acting as long-standing victims, but out of a position of power, one that we need to generate internally first, before demanding it be recognized by the outside world.