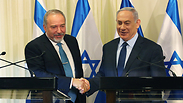 Liberman and Netanyahu
Photo: Gil Yohanan
Avigdor Lieberman was officially sworn in as Israeli Defense Minister in a Knesset ceremony on Monday evening.
The swearing in comes as a part of Prime Minister Netanyahu's broadening of the coalition government. Government ministers approved Avigdor Lieberman's nomination as defense minister in a meeting earlier Monday morning. In addition, the government will be welcoming party member Sofa Landver to take up the minister of absorption portfolio.
The vote comes following a protracted round of heated negotiations between Netanyahu's Likud party and Lieberman's Yisrael Beytenu party. With the new agreement, Netanyahu will see the government grow from a narrow 61 seat majority in the Knesset to a 67-strong majority.
The approval was also facilitated after a crisis was resolved between Netanyahu and the Bayit Yehudi Chairman Naftali Bennett who had previously threatened to stymie Lieberman's inauguration if a series of conditions were not first met by Netanyahu.
An awkward moment occurred when the incoming ministers were not invited for a meeting causing Netanyahu to even ask at one point, "Where are the incoming ministers?" Later on Monday evening the two will be sworn into the government in the Knesset.
As part of the deal between Likud and Yisrael Beytenu, NIS1.4 billion will be allocated toward Lieberman's pension reforms over the next four years. Moreover, $150 million will go toward public housing. Moreover, a team of ministers will work to formulate the terminology of the Basic Law which would legally define Israel as the nation-state of the Jewish people.
Regarding religious and state policies which were one of the fundamental flagships of Lieberman's party, the faction wrote: "A team will be assembled under the leadership of Minister Yariv Levin which will include representatives from the coalition for the subject of religious and state legislation. Legislation relating to religion and the state will not be advanced, will not be approved and will not be passed unless they have been unanimously approved by the coalition."