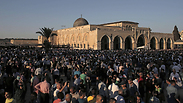 Eid al-Fitr prayers on the Temple Mount
Photo: AFP
Newly-appointed Defense Minister Avidgor Lieberman has issued an order easing some restrictions imposed on the Palestinians ahead of the holy month of Ramadan, which begins on Monday.

The Coordinator of Government Activities in the Territories Unit (COGAT) said Friday that the easing of restrictions was approved based on the recommendation of IDF Chief of Staff Gadi Eisenkot.

The measures include allowing Palestinian residents of the West Bank to visit their families in Israel during the month-long holiday, while those who wish to visit family in the Gaza Strip could do so if they're first-degree relatives.

In addition, Israel will allow Muslim worshipers from the West Bank to enter the al-Aqsa mosque complex on the Temple Mount to pray on Fridays and during Laylat al-Qadr (the night when the first verses of the Quran were revealed to the prophet Muhammad, according to Islamic belief).

Residents of the Gaza Strip could also visit family in Israel and in the West Bank during Ramadan and Eid al-Fitr (the holiday marking the end of the month-long fast of Ramadan), so long as they're first-degree relatives.

Gazans will also be able to enter the al-Aqsa mosque compound and pray there on Fridays, during Laylat al-Qadr and during Eid al-Fitr.

To facilitate those measures, Israel will extend hours of operations at the border crossings.

COGAT dubbed the moves "gestures of goodwill," saying they're done to promote the freedom of religion and worship. These are gestures Israel makes every year for Ramadan.