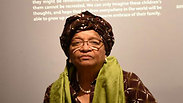 Liberian President Ellen Johnson Sirleaf
Liberian President Ellen Johnson Sirleaf is holding an official visit in Israel, where she and her ministers are meeting the Israeli leadership and entrepreneurs to further cooperation between both countries in all fields. Johnson Sirleaf, a Nobel Prize Laureate, is the first woman to be elected to the head of an African state, and has been called the "Golda Meir of Africa."

Sirleaf, who began her tenure as President of Liberia in 2006, came to Israel to receive an honorary doctorate from the University of Haifa for her efforts in promoting women's equality and for her role in human rights promotion. During her acceptance speech on Tuesday evening, she spoke about her worry that ISIS and Boko Haram pose to world stability, thank Israel for its work in helping Liberia fight its Ebola epidemic, and for the need to break down barriers.

The Liberian president arrived in Israel with four other Liberian ministers: the defense minister, the foreign minister, the trade minister, and the minister of information, culture and tourism.


When asked if she has any advice for solving the Israel-Palestinian conflict, she said "Barriers need to be broken down, not built up."

She already met with Israeli President Reuven Rivlin and throughout her week long stay she is slated to meet with Prime Minister Netanyahu, Energy Minister Yuval Steinitz, and Justice Minister Ayelet Shaked.

During President Rivlin's meeting with Liberian President Sirleaf, Rivlin said "as a leader of your country and as a Nobel Peace Prize Laureate, you are a symbol. It's a pleasure to be able to host you here, with the knowledge that you not only work for the betterment of your nation, but for the world as a whole. We deal with similar challenges, and both (our nations) look to the future."

He continued, saying "Israel is working and trying to bring an end to the tragedy with the Palestinians. We must respect the idea (of a Palestinian state) because they're here, and they must recognize the idea that the Jewish nation has returned to its homeland. These are difficult challenges when there is no trust between nations. You (also) faced challenges in your region, and you understand that sometimes there is a need to fight for freedom. Yet we are always looking towards the future, a better future."

Sirleaf responded to Rivlin, saying "I thank you for the warm welcome. I visited Israel in 2007, and I returned today to strengthen and renew the cooperation between our two countries which has existed for many years – since the establishment of the state of Israel. Since that time, we have had lots of cooperation. Liberia has gained a lot of experience from Israel in regards to our development goals. While this friendship was put on hold during the conflict in Liberia, I am happy because since I was elected President of Liberia in 2006, we have renewed the cooperation between us."

She added, saying "throughout my visit with my delegation we wanted to learn about the extraordinary developments which Israel has made, especially in agriculture, which we look at with wonder each time we see it. You have done wonderful things in the field of water. There are a lot of similarities between Liberia and Israel. I wish to thank Israel for its help during our Ebola crisis, when Israel joined other forces and bilateral initiatives for the purpose of helping us beat this disease."

The Liberian president visited Yad Vashem and laid a wreath in the Hall of Remembrance. She also visited the Western Wall where she took a picture with female IDF soldiers at the women's section of the wall, and visited other holy sites.

After landing in Israel she was taken to Moshav Kfar Shmuel next to Ramle and tasted Israeli cucumbers. She later met with Israeli entrepreneurs and is scheduled to meet with representatives of Israeli companies looking to invest in Liberia on Thursday.

She last visited Israel in 2007 as the headliner for a conference held by the Israeli Center for International Development.

Israel and Liberia have a long history of cooperation. Israel assisted Liberia in the establishment of its Public Defender, and the Israeli Ministry of Justice even has two public defense workshops in Liberia.

Meanwhile, the West African nation was one of the first countries in the world to recognize Israel and voted in favor of the partition plan.

Today there is cooperation between the two countries in the fields of agriculture, defense, and Israeli construction companies played a large role in helping to develop the West African nation.