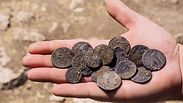 Ancient coins found at the excavation site
Israel Antiquities Authority
Ancient 'Freedom of Zion' coins from the Maccabean Period found in Modi'in
An archeological excavation uncovered a treasure of coins and a manor from the Maccabean period; the site also found evidence that points to the inhabitants' participation in the First Maccabean Revolt; Education and Sport Minister called the finding 'another exciting testimony to the Jewish people's connection to its homeland.'
Silver coins dating back to the Maccabean Period (from around 126 BCE) have been found at an archeological excavation site near Modi'in. The project is led by the Israel Antiquities Authority (IAA), and the digging is part the construction of a new neighborhood in the Modi'in-Maccabim-Re'ut Municipality.

The treasure is presumed to have been hidden in a cranny adjacent to a large agrarian manor that was also discovered as part of the excavation project. Abraham Tendler, who is managing the excavation for the IAA, described the discovery as "a rare find of silver coins from the Late Hellenistic Period that includes shekels and half shekels." He identified the profiles minted on the coins as King Antioch IV and his brother, Demetrios II.

"The treasure is a fascinating piece of evidence showing that after saving for months and months, one of the people living in the manor had to leave for an unknown reason," explained Tendler. "He must have hid his money here, hoping to reclaim it later. Apparently, he was not so lucky, as he doesn't seem to have ever returned for it. It's exciting to think that this treasure had been waiting here for some 2,140 years until we discovered it."

In addition to silver coins, the excavation also uncovered many bronze coins with the names of such Jewish Maccabean leaders as Yohanan, Yudah, and Matthathias.

The excavation also found apparent that possibly point to the manor inhabitants' possible participation in the Maccabees' first revolt against the Romans in 66 CE, as some of the coins read "Year 2" (of the revolt), as well as the slogan, "Freedom of Zion."

The excavation found that the manor was still operating in 70 CE, and as such, according to Tendler, "It appears that the manor's inhabitants held onto hope that they would still break free from Rome." He assessed, "They were preparing to fight as part of the Bar Kokhba Revolt."

As the excavation continued, it was found that those who lived in the manor had prepared for a battle by building a fortified wall and hiding places beneath the floors. "A beautiful mikveh (ritual bath) was also uncovered," said Tendler. "And as we kept digging, we unearthed an opening to an intricate tunnel system used for hiding, with many findings from the Bar-Kokhba Revolt."

Minister of Culture and Sport Miri Regev (Likud) was particularly joyous for the discovery. "The treasure and manor that were found provide us, once more, with irrefutable archeological evidence of the continuous settlement of Jews in the Jerusalem and Judea areas for hundreds of years. The discovery constitutes another exciting testimony to the Jewish people's connection to its homeland."

The unique finding will be preserved as an archeological park at the heart of the neighborhood to be built at Modi'in-Maccabim-Re'ut.