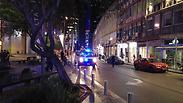 Terror at Sarona Market; 4 murdered, 16 wounded
A terrorist attack at Tel Aviv's Sarona Market, adjacent to Ministry of defense; IDF HQ, has left four dead and at least 16 wounded, one of them critically; two terrorists were neutralized; police and Tel Aviv mayor ask citizens to resume daily routine.
Four people have been killed and 16 people have been wounded in a terror attack at the Sarona Market in Tel Aviv in a terror attack. One of the terrorists was neutralized at the scene and taken to hospital in critical condition while the second terrorists was taken into custody.
Footage from an adjacent restaurant
Ido Ben-Ari, 42, from Ramat Gan; Ilana Nave, 39, from Tel Aviv; Dr. Michael Feige, 58 from Midreshet Ben-Gurion; and Mila Mishayev, 32, from Rishon Lezion.
Multiple shots were heard at the open-air shopping center in the heart of Tel Aviv, adjacent to IDF and Ministry of Defense headquarters, the Kirya. Magen David Adom (MDA) arrived at the scene and declared multiple wounded, and their paramedics evacuated wounded persons to Ichilov and Tel Hashomer Medical Centers. Of the 16 wounded, four died, and three are still in the hospital.
Terrorists neutralized
The terrorists, two cousins from Yatta in the Hebron area, sat at the popular restaurant Max Brenner before they set out on their shooting spree. They wore suits and ordered food before they set out killing indiscriminately.
The restaurant's manager said, "I was sitting in the restaurant, and they got up and started shooting. Before that, they had ordered someting to eat and acted like any other customer...They had bags with them; they didn't shout anything, just took out their weapons and started shooting."
One of the terrorists shot with an improvised weapon that he left behind when he fled, though he was soon shot. The Israel Police and Shin Bet immediately took him for questioning.
Prime Minister Benjamin Netanyahu landed at Ben Gurion International Airport, returning from his visit to Russia, and he proceeded immediately to the Kirya to hold a security meeting.
Minister of Defense Avigdor Lieberman was in his office a the Kirya at the time of the attack and has been kept up to date with updates.
Tel Aviv Mayor Ron Huldai commented on the incident, "It was a hard night in Tel Aviv. There was another attack in which terrorists, who were apparently sitting at a coffee shop, hid their weapons and then started firing indiscriminately.
Terrorst shooting at Max Brenner restaurant in Tel Aviv
"We ask the public to remain calm. We in Tel Aviv are a target of terrorism, and they are trying to disrupt our lives. We will continue to enjoy living in the city, and terrorism will not make us surrender. I ask everyone to return to their daily routine tomorrow."
Tomer, who came to Sarona to enjoy the evening, said, "We were sitting outside and a round of bullets (were fired). Everyone started running. This is not like a normal terror attack. The shots were fired for at least a minute. There was a large panic, and we were asked to go inside the building. They held and kept us (there), and then they came to check that we were okay. We are waiting for them to open the roads so that we can leave. We have not seen such a thing in a long time."
A young woman who was hiding in a store until now, said, "I was sitting near Max Brenner and I saw shots fired. They were fired incessantly in all directions. I ran to the Super-Pharm and (the assailant) then ran toward me. I was then told to hide and I tried to escape."
The Israel Police announced at around 10:20pm, "As of now, the public can return to their daily routine; however, they are requested to employ high vigilance and call the police at 100 to report any suspicious event."
Israel's Permanent Representative to the United Nations Ambassador Danny Danon called on the secretary general and the security council, "Definitively condemn murderous Palestinian terrorism."
Eli Senyor, Sharon Salmon, Noam (Dabul) Dvir, Itay Blumental, Reut Rimmerman, and Moran Azulay contributed to this report.