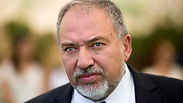 Avigdor Lieberman
Photo: AP
Defense Minister: 'We will respond with more than just words to terror attack'
Lieberman praises Tel Aviv residents for carrying on with normal lives after deadly terror attack, promises to take 'severe measures:' Danny Danon: 'UN failure to condemn Palestinian terror means next attack a matter of time.'
Defense Minister Avigdor Lieberman spoke on Thursday about the government's intention to respond to the the Palestinian terror attack which claimed the lives of four Israelis and wounded 16 others in Tel Aviv's Sarona Market on Wednesday night.

Speaking in Tel Aviv, Lieberman said, "Please allow me to express my condolences to the families and wish the wounded a speedy recovery. I came to salute the residents of Tel Aviv who have had to deal with yet another serious incident. Despite this, they want to return to regular life and prove that life is stronger."

"I don't intend to elaborate on the steps which we will be taking and I definitely don't intend to make do with words only," Lieberman declared.

The attack is the first to have taken place since Lieberman was inaugurated as defense miniser. Moreover, it comes as the month-long Muslim holy month of Ramadan gets underway - a period known in Israel for its upsurge in security threats. One of Lieberman's first decisions was to ease restrictions on Palestinians during the festival.

In an earlier statement, Lieberman said that Israel will not "put up with the situation. I don't think this is the time to issue declarations, but we will do everything necessary and we will do in a severe manner."

"We won't accept this situation, they cannot escape responsibility," he said.

The Israeli Ambassador to the UN Danny Danon, called upon the UN secretary-general and the security council on Wednesday night to condemn the terror attack.

"Today's attack is sad proof that when the international community refuses to condemn terror against Israelis, the next attack is only a matter of time. Terror in Tel Aviv must be viewed in the same way as terror attacks in Paris or Istanbul," said Danon.

"I call upon the Security Council and the secretary-general to severely condemn the murderous terror attack and to demand from the Palestinian leadership to put a stop to hateful things which incite terror."

Prime Minister Benjamin Netanyahu, who had already been appriased of the attack while on the plane returning to Israel from a visit to Moscow, immediately made his way to Ministry of Defense headquarters (Kirya) in Tel Aviv to convene an emergency meeting to discuss the matter with Lieberman, Minister of Internal Security Gilad Erdan, Police Commissioner Roni Alsheikh, Shin Bet Chief Nadav Argaman and other senior officials. On Friday the Cabinet will meet to discuss the attack.

The attack in Tel Aviv - which concluded with the death the arrest of the two terrorists, one moderately wounded - disrupts a comparatively long period of calm since the intense half-year nationwide wave of terror, characterized by shootings, stabbings and car rammings, appeared to have subsided, thereby dashing the government's cautious optimism of a return to normality.