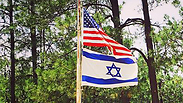 US and Israeli flags at half-staff at the girl's summer camp
A 16-year-old girl from the United States died on Wednesday from hyperthermia (heat stroke) during a hike with her summer camp in the Negev. The teenager was transported to the hospital following her displaying symptoms on Wednesday, and the news of her death was released on Saturday.

The American was struck with hyperthermia whilst on a hike with other teenage girls in Ein Akev. Paramedics from Magen David Adom were called to the scene, where they provided first aid and transferred her directly via helicopter to Be'er Sheva's Soroka Medical Center.

She arrived at Soroka already in critical condition, and the doctors there attempted to resuscitate her. After an hour and a half of attempts to save her life, she was pronounced dead.

The police are currently investigating the circumstances that led to the girl's death.