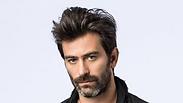 Actor Yehuda Levi
Photo: Ohad Romano
Entertainment company Fox International released a statement saying that it has purchased the rights to the Israeli drama show "A Very Important Person," starring local heartthrob Yehuda Levi. Fox reportedly intends to create its own version of the show, which is partially based on Levi's life.

"I'm very excited about the transformation that the series has undergone," Levi said after the announcement was made. "Despite it being an Israeli show, its universal theme has managed to capture the heart of the American entertainment industry."

Fox Entertainment Studios and International Content Vice President Sharon Tal-Yguado joined the excitement by saying, "'A Very Important Person' is undoubtedly one of the best shows made this decade. (Series creator and writer) Shirley Moshayof's sophisticated writing and Yehuda Levi's emotionally mesmerizing acting create a rare television experience that touches the heart of its viewers." She added that the studio is currently in talks "with a very famous Hollywood actor who has fallen in love with the script" to play Levi's role.